See all Stories
$32.7 Million Grant for Cancer Prevention
In the fight against colorectal cancer, colonoscopy is a lifesaver. But for people over 70 with a history of small colon polyps, colonoscopies can come with increased risks and fewer benefits. If this population had access to a non-invasive screening method that also helped prevent this deadly cancer, would they choose that instead?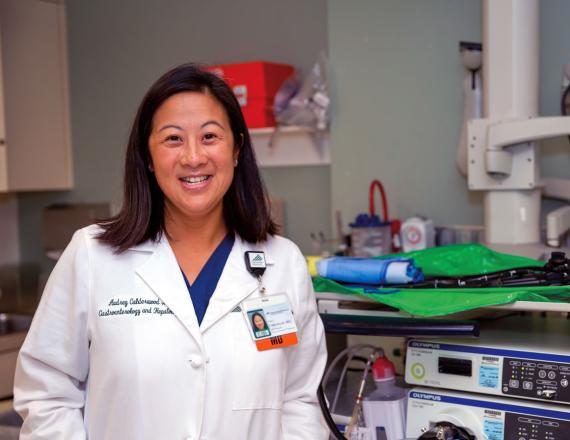 A research team led by Audrey Calderwood, MD, MS, director of Dartmouth-Hitchcock's (D-H) Comprehensive Gastroenterology Center, has been awarded a $32.7 million grant from the Patient-Centered Outcomes Research Institute (PCORI), to study the prevention of colon cancer in older adults. Their findings will answer this question, and more.
"The proposed trial will compare colonoscopy and stool-based testing for the prevention of colorectal cancer in adults 70 and older with prior small colon polyps," says Calderwood. "In addition, we'll gather information on important patient-centered outcomes, including satisfaction with and trust in testing, cancer worry, perceived cancer susceptibility and emotional benefits of surveillance. Results will bring meaningful change in the delivery of colorectal cancer prevention for older adults with a history of colon polyps by offering a safe and convenient alternative to colonoscopy."
The Power of Prouty Pilot Grants
Prouty Pilot grants in 2017 and 2019 funded some of Calderwood's early work with older adults with colon polyps, and in 2019, she was selected as one of six D-H Cancer Research Fellows, which provided her with protected time for research.
"The Prouty Pilots directly supported my work in the field of colorectal cancer prevention in older adults and ultimately led to the $32.7 million award from PCORI," says Calderwood, who's also an associate professor of medicine at the Geisel School of Medicine and at The Dartmouth Institute for Health Policy and Clinical Practice. "Seed funding allows investigators to explore early research ideas that might otherwise not get off the ground. The ability to generate preliminary data and establish collaborations through seed funding directly translates into improved success when applying for external funding for larger projects that can ultimately advance knowledge in the field and around the world."
Calderwood's study was selected for PCORI funding through a highly competitive review process in which patients, caregivers, and other stakeholders joined scientists to evaluate the proposals. Co-investigators on the study include Douglas J. Robertson, MD, MPH, chief of gastroenterology at the White River Junction VA and professor of medicine at The Dartmouth Institute, and Karen E. Schifferdecker, PhD, MPH, director of the Center for Program Design and Evaluation at Geisel and associate professor of community and family medicine at The Dartmouth Institute.
"This study will have an incredible impact and could simplify colorectal cancer screenings by making them more accessible," says NCCC Director Steven Leach, MD, the Preston T. and Virginia R. Kelsey Distinguished Chair in Cancer. "Colorectal cancer is the third most common cancer in the country, and Dr. Calderwood's team is working to help change those statistics."