See all Stories
A Bold New Approach to Helping Kids in Distress
Pediatric hospitalist JoAnna Leyenaar, MD, MPH, PhD, noticed when the hospital beds began to fill with different sorts of kids. They came to the emergency department (ED) not with stomachaches and respiratory illnesses, but with anxiety, depression, and thoughts of suicide. When these children presented with injuries, they were self-inflicted.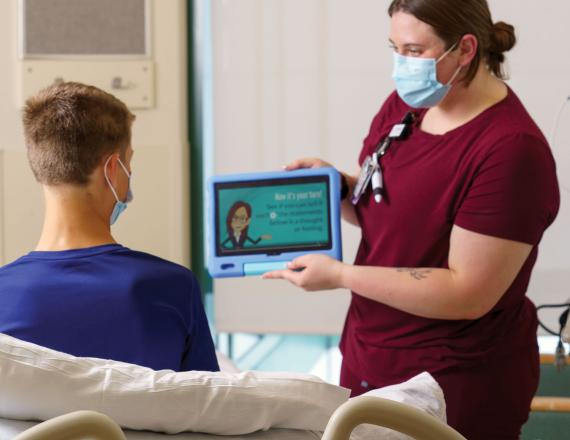 "Over the last five years, pediatric mental health boarding—the practice of holding youth in emergency departments or medical units until an inpatient psychiatric bed opens up—became increasingly common across the country," says Leyenaar, who is also vice chair of research and an associate professor in the Department of Pediatrics at the Geisel School of Medicine, and an associate professor of The Dartmouth Institute for Health Policy & Clinical Practice. "Now, it's one of the most common reasons for hospital medicine to be providing care here at CHaD."
To gain a deeper understanding of the phenomenon, Leyenaar worked with graduate students and colleagues from The Dartmouth Institute to conduct a literature review and then survey pediatric hospitalists. They discovered that children were regularly boarding in EDs for much longer than the recommended four hours—some U.S. children have spent weeks in an ED waiting for a bed in an inpatient psychiatric facility—and that none of the papers on the subject were solution focused.
Leyenaar's findings were published by the Journal of the American Medical Association (JAMA) in December 2021—just days after the U.S. Surgeon General issued an advisory on the youth mental health crisis, and a month after Leyenaar helped launch I*CARE: Improving Care – Accelerating Recovery & Education.
 
The right care, when it's needed most
In 2020, a gift to the Geisel School of Medicine from Susan and Richard Levy, PhD, D'60 established the Susan & Richard Levy Health Care Delivery Incubator, a joint initiative between Dartmouth College and Dartmouth Health and based at The Dartmouth Institute. The Incubator supports projects focused on improving patient outcomes, prioritizing patient- and family-centered care, reducing spending, and promoting scholarly work. I*CARE was included in the second cohort of Incubator projects. Led by Leyenaar and Robert Brady, PhD, the director of the Anxiety Disorders Service at DHMC and an assistant professor of psychiatry at Geisel, I*CARE utilizes technology and licensed nursing assistants (LNAs) to begin delivering mental health care to kids while they're boarding.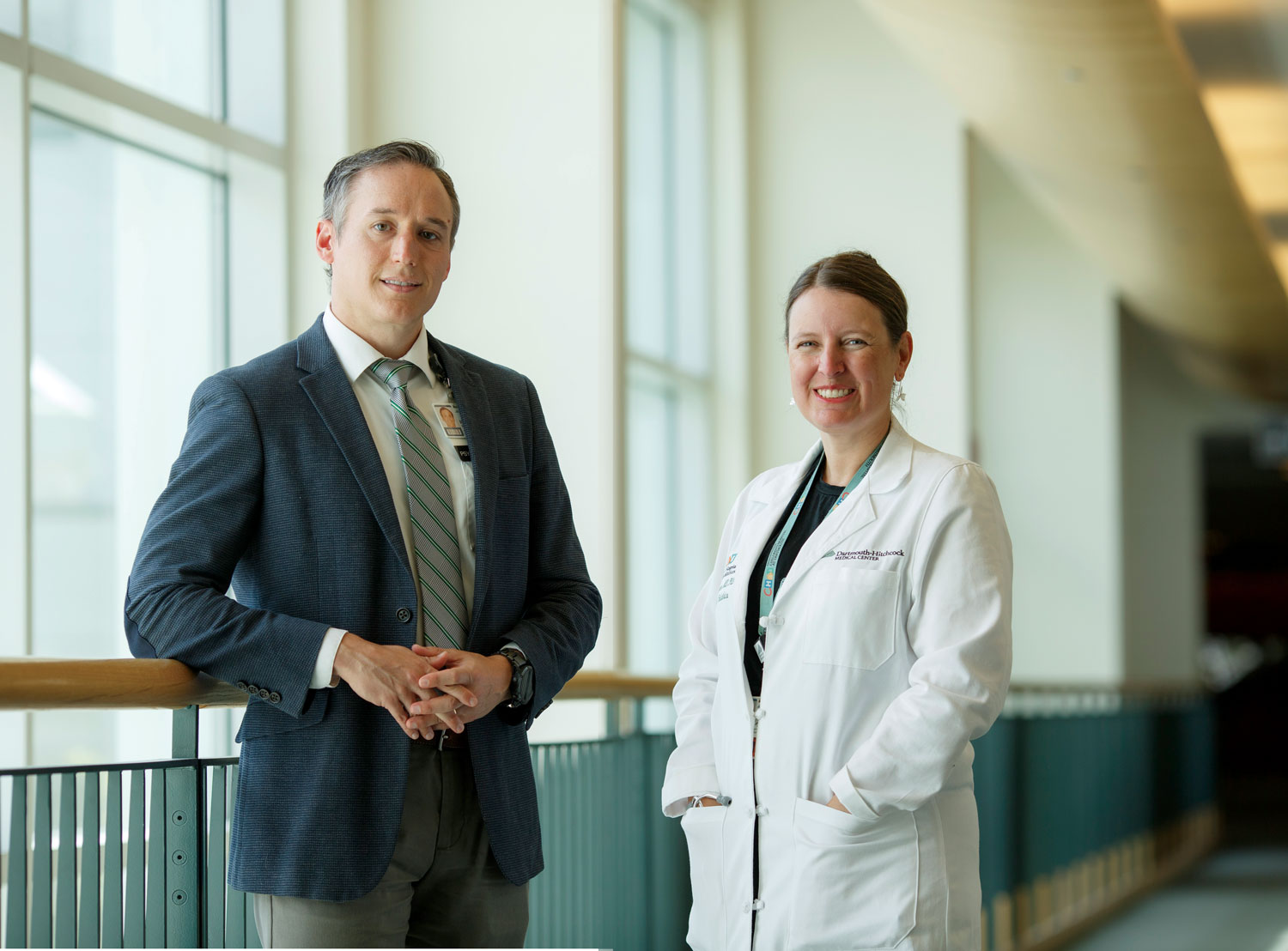 "Mental health interventions traditionally aren't consistently delivered during boarding because there aren't enough clinicians to deliver them," says Brady. "With I*CARE, we've broadened the base of who could provide interventions and of how interventions are delivered."
Leyenaar and Brady initiated the project by engaging parents, adolescents, community-based mental health workers, and DHMC clinicians to discuss what could be realistically accomplished during boarding. They prioritized a number of mental health interventions, such as coping skills and relaxation techniques, that patients between the ages of 12 and 17 can explore through video content and a workbook. LNAs and other pediatric caregivers—the people already on the floor and establishing rapport with the kids—coach the patients through the content.
"We received really helpful feedback on the content from kids who told us what they liked and didn't like, and we were able to make changes based on that feedback," says Leyenaar. Levy Incubator staff and members of the Learning Design and Systems team within the Center for Learning and Professional Development at DHMC also were key in helping Leyenaar and Brady create their interventions using the best methodology and human-centered design.
Image

Changing the paradigm in approaches to care
Since launching last November, 25 children boarding in the CHaD Inpatient Pediatric Unit have worked through the program.
"They arrived depressed or anxious, some thinking about suicide, some having already attempted it," says Leyenaar. "The medical model that focuses on physical health didn't work for this population. We've changed the paradigm of how we approach their care."
Brady adds, "Not being able to deliver the needed care was demoralizing for staff—they wanted to help but didn't know how. Through the program, they're developing more familiarity and comfort with mental health skills and feel better equipped to care for these patients."
I*CARE is now being piloted in the DHMC ED as well, and Leyenaar and Brady are responding to inquiries about the program from other institutions. "Unique to I*CARE is the use of the digital health intervention, which means it can be delivered anywhere, in the same way, consistently," Leyenaar says.
But before disseminating I*CARE, the next step for Leyenaar and Brady is to conduct a multisite clinical trial to evaluate the mental health outcomes of kids who take part in the program.
"Especially in some rural hospitals where they don't have anyone in the mental health sphere, I*CARE could be an enormously helpful bridge," says Brady. "We're moving toward that with all deliberate speed."
Setting up a clinical trial to evaluate I*CARE's effectiveness will require additional support, and Leyenaar and Brady are looking to foundations and the National Institutes of Health for grant funding. In the meantime, they're grateful for the philanthropy that's brought their project this far.
"Change is hard and implementing it is nearly impossible without philanthropic support," Brady says. "The Incubator provided the resources for our team to step away from our other duties and concentrate on developing something that we hope will improve the overall wellbeing of kids who are boarding."
Thrilled with the projects generated by the Health Care Delivery Incubator, Dick Levy is looking forward to renewing his support in the future. He says of I*CARE, "This is a low-cost intervention that has the potential to greatly improve outcomes for kids in crisis while giving them access to much-needed mental health supports. It's just the sort of solution I hoped to see emerge when I helped establish the Health Care Delivery Incubator at Dartmouth."