See all Stories
CARES Hits the Road for Heart Health
If knowledge is power, then the Dartmouth-Hitchcock Heart & Vascular Center (HVC) brings power to the people throughout rural Northern New England. Using a dedicated Dodge Transit minivan and a red-and-white pop-up tent, the Community Awareness Research and Education (CARES) program brings free, no-hassle blood pressure, blood sugar, and cholesterol screening to people across New Hampshire and Vermont who might not be aware of their risk for heart disease.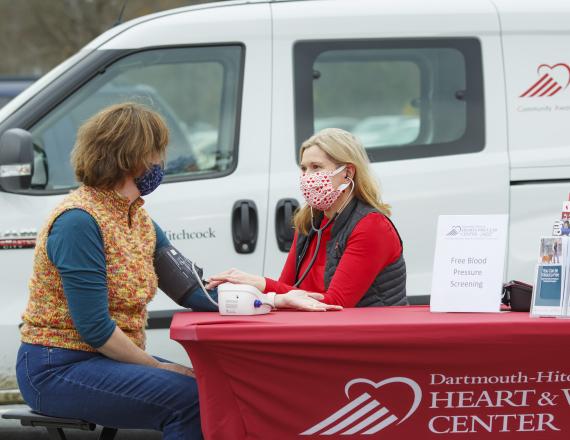 The program launched two years ago, but paused during 2020 because of the pandemic. In August 2021, HVC CARES resumed and held events at a home game of the Upper Valley Nighthawks collegiate baseball team in Hartford, Vt., and at Dan & Whit's General Store in Norwich, Vt. Clad in HVC polo shirts and hats, the team of nurses who staff the CARES van set up their tent, tables, and chairs wherever the people are—at county fairs, farmers markets, food pantries, sporting events—and screen anyone over the age of 18 for the risk factors for heart attack and stroke. They know that for many rural residents, the logistics of time off from work, travel, childcare, and insurance can put basic healthcare out of reach and raise the risk of a catastrophic heart event down the road.
The CARES team sees screening as just the first step in spinning a web of community connections to support heart-healthy living for the residents of rural New England, no matter how far they live from Dartmouth-Hitchcock Medical Center in Lebanon, N.H. The CARES nurses welcome whole families under their tent—even kids too young for screening can squeeze a free HVC stress ball and chat about the benefits of fresh fruits and veggies while a relative gets their blood pressure checked. Folks with more risk factors—a history of smoking, for example, or family members who have suffered heart attack or stroke—receive referrals to local providers, while those interested in smoking cessation, healthy eating, and new fitness routines can take home pamphlets, as well as information about local resources to support lifestyle change.
"The purpose of HVC CARES is to raise awareness about heart and vascular health in our communities, and identify those at risk for heart disease by screening high blood pressure, high cholesterol, and diabetes. We particularly wish to connect with those living in underserved rural areas," says Heart & Vascular Center Director Mark Creager, MD, the Anna Gundlach Huber Professor in Medicine at the Geisel School of Medicine.
---
To learn how you can support HVC CARES, please contact Dorothy Heinrichs at 203-257-2689 or Dorothy.B.Heinrichs@hitchcock.org.