See all Stories
Changing the Future of Cancer Treatments
Over the winter Arti Gaur, PhD, assistant professor of neurology at Dartmouth Cancer Center and Dartmouth's Geisel School of Medicine, received a call from Sadiq Malik, D'00. Malik had read about Gaur's groundbreaking work to develop a treatment for gliomas, a rare form of brain cancer. This science was personal for Malik. His wife had been diagnosed with brain cancer in her 30s and her brother had died from a glioblastoma, a type of tumor that leaves patients with an average life expectancy of just 12-18 months. Malik hadn't realized that research about the disease that had wreaked havoc on his family was happening at his alma mater.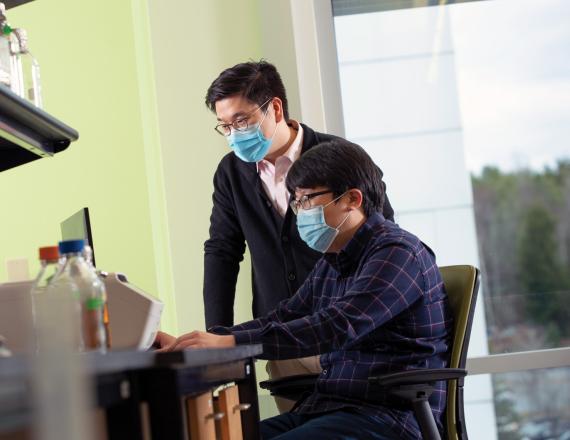 For Gaur, the call with Malik was heart-wrenching, but affirming, driving to the root cause of why she's so passionate about extending life expectancy for glioma patients. "If you're not in touch with humanity, what are we doing this for?" says Gaur. "We're doing this to make a positive social impact. It could be one of us being treated. It could be one of us on the other end of the diagnosis, knowing where the trajectory ends."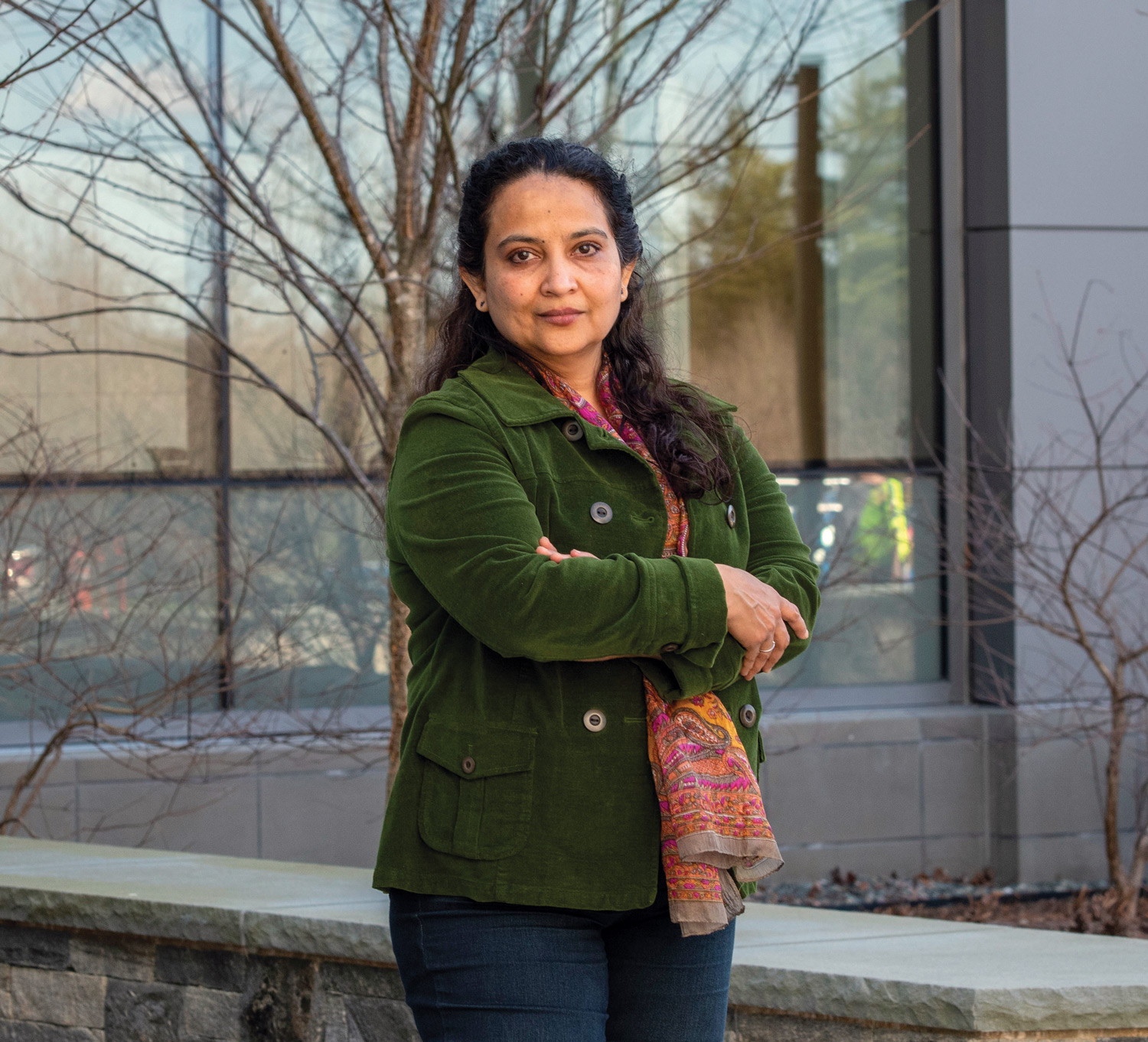 Today, Gaur and her team are closer to changing that trajectory, thanks in part to funding secured through the Dartmouth Innovations Accelerator for Cancer (DIAC), a partnership between Dartmouth Cancer Center and the Magnuson Center for Entrepreneurship. Gaur participated in the first cohort of the accelerator and was awarded $300,000 in funding in May 2021. Over the past year she used those funds to conduct research showing that a new therapeutic compound synthesized by Glenn Micalizio, PhD, the New Hampshire Professor of Chemistry at Dartmouth, kills brain tumor cells while leaving healthy human cells intact.
While the diagnosis of malignant glioblastoma is often associated with little hope, Gaur is growing increasingly confident that her compound could change that. For the scientist whose own mother died from cancer, the significance is deeply personal.
"After a tragedy, you can give up, or use all your knowledge to design things and plan for a future where you don't see someone else suffer," Gaur says.
Following the call to lead, beyond the lab
The Dartmouth Innovations Accelerator for Cancer was launched in 2020, through a generous donation from alumni in response to Dartmouth's Call to Lead campaign. To date, more than $5 million in philanthropic donations have been raised to support DIAC's mission of providing Dartmouth teams the resources they need to translate their innovations from the laboratory to the marketplace.
"DIAC brings together the best that Dartmouth has to offer, from the world-class research being conducted at the Cancer Center to the top-notch entrepreneurial programming put together by the Magnuson Center," says Steven Leach, MD, director of Dartmouth Cancer Center and the Preston T. and Virginia R. Kelsey Distinguished Chair in Cancer. "By supporting promising early-stage cancer innovations, we're playing an active role in changing the future of cancer treatments and ultimately saving lives."
Thirty-five teams have participated in DIAC as part of two cohorts. Simbex, a medical device and consumer health product development and commercialization partner based in the Upper Valley, provides the academic portion of the Accelerator, walking teams through the process of biotech innovation. An external review board made up of biotech entrepreneurs and venture capitalists mentor participants, helping them think not just like scientists, but like entrepreneurs hoping to attract funding.
"The reviewers are an amazingly sophisticated group of people, and they have been impressed by the quality of the presentations and the science, as well as the breadth of the projects," says Barry Schweitzer, PhD, D'82, associate director for strategic initiatives at the Magnuson Center.
For participants including Jiwon Lee, PhD, the Ralph and Marjorie Crump Assistant Professor of Engineering at Thayer School of Engineering at Dartmouth, the educational and networking opportunities that DIAC provides are invaluable. Teams learn not only how to show the scientific merit of their innovation but also how to market it to potential investors.
"The best part of participating in the accelerator is being connected with industry leaders and being able to find business mentors," Lee says.
Lee's team is developing an antibody engineering technology platform called B-ALIVE. The platform will allow faster development of novel therapeutic antibodies — in short, getting more potent drugs to patients who need them in order to improve on standard treatments and potentially save lives. The team has participated in DIAC twice, securing funding to advance their idea. Lee plans to participate again next year.
"DIAC has been essential in advancing our nascent yet bold idea into an innovation," he says.
Leveraging connections and funding to advance treatment
As they work through DIAC, Dartmouth Cancer Center innovators have the opportunity to form organic connections with biotech investors. Dozens of meetings have taken place between teams and potential investors, says Schweitzer.
Michael D. Cole, PhD, professor of molecular and systems biology at Geisel, and research associate Ed Feris are working toward developing a platform that will target MYC, a gene that plays a role in the growth of the most common cancers. MYC was identified as having a role in cancer decades ago, but researchers have been unsuccessful in targeting it.
By supporting promising early-stage cancer innovations, we're playing an active role in changing the future of cancer treatments and ultimately saving lives."
— Steven Leach, MD, Dartmouth Cancer Center Director
"This has been called the most wanted targeted therapy," says Feris. "Every large pharmaceutical company in the world has an active MYC program."
Cole and Feris were part of the first DIAC cohort. This spring they founded a company, cosMYC. They've since secured significant funding from a blue-chip venture capital firm, which will pay for research over the next three years. The DIAC award enabled them to work in collaboration with the Novartis Institute for Biomedical Research, which was critical to obtaining investment.
"Our collaboration with Novartis opened the door to this funding, and we were paying for the last parts of the Novartis collaboration with the Accelerator money," says Cole. "It's all intertwined."
For Gaur, the award from DIAC provided critical funding at a stage of development where there is a dearth of grant options. The research that she's doing now shows that her compound is effective and nontoxic. That will eventually enable her to launch an investigational new drug application with the Food and Drug Administration and start phase 1 trials in humans.
"We're collaborating with neuro-oncologists who are waiting to translate this into the clinic, and we know there are patients that would willingly sign up for this," she says.
Five teams received funding in the second cohort
In May, DIAC announced funding awards for the second cohort. Two teams were awarded $150,000 in funding each, while three were awarded $50,000 each.
A team led by Paul Robustelli, PhD, an assistant professor of chemistry at Dartmouth, is using state-of-the-art computer simulations coupled with experimental biophysical approaches to design drugs for hard-to-target proteins. Their $150,000 award will enable the researchers to expand their focus.
"The funds from DIAC allow us to immediately work on new systems, with an emphasis on developing our platform with an eye toward commercialization, as opposed to an emphasis on more basic biological and biophysical questions," Robustelli says.
Before DIAC, Robustelli often shaped his projects and research based on the agency that he hoped to secure funding from, like the National Institute for Health or the National Science Foundation.
"As an academic it's easy to view your research plan from only that lens," he says. "Through DIAC, I was able to learn about different ways that potential investors and venture capitalists might view the prospects of different research directions. I am able to think about what a synergy between industry and academic funding could look like in my field."
The other $150,000 award went to a team led by Karl Griswold, PhD, a professor of engineering at Thayer. Griswold's team is working on a platform for precision protein engineering for cancer immunotherapy. Griswold will use the award for data collection, with plans to leverage that research to secure more funding from grants and venture capital firms, much the way that Cole and Feris did. He feels better equipped to pursue commercialization after participating in DIAC.
"Through regular review and feedback from organizers, reviewers, and even competitors, we have a better understanding of the strengths and weaknesses of our technology, value proposition, and current pitch," Griswold says. "The DIAC program is a fantastic resource for the Dartmouth community, and it is a powerful opportunity for Dartmouth researchers to hone their entrepreneurial skills through the lens of the cancer community."