See all Stories
Healing the Hurt
Trauma-Informed Treatment for Vulnerable Youth
Imagine you're a child who's teased relentlessly for being different. You're bullied on the school bus, ignored in the lunchroom, and never invited to sleepovers or dances. And because you're different, you're also a target for the most extreme forms of victimization—emotional manipulation, physical abuse, and rape.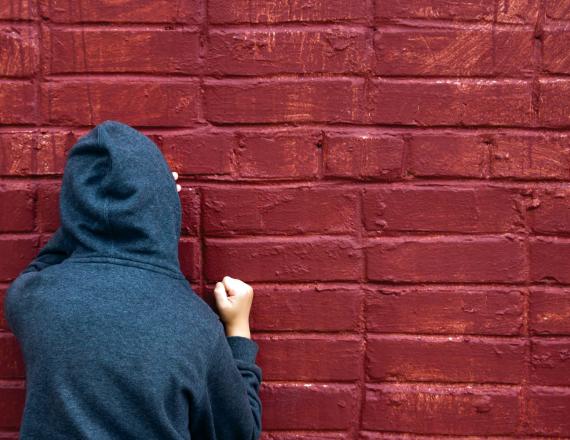 Kids and young adults with intellectual and developmental disabilities (IDD) are up to 60 percent more likely to experience trauma than neurotypical youth. Often hampered by limited communication skills, these children express themselves through behavior—and when they've suffered a trauma, they may withdraw, regress, or hurt themselves and the people around them. Trauma-informed care is an evidence-based therapeutic practice that could be life-changing for kids with IDD, including those with autism spectrum disorders (ASD), but most mental health practitioners who offer this type of care don't have experience working with the neurodivergent population—and most caregivers who provide services to youth with IDD aren't equipped to incorporate trauma-sensitive practices.
The Dartmouth Trauma Interventions Research Center (DTIRC), a collaboration between the Geisel School of Medicine and the Department of Psychiatry at Dartmouth Hitchcock Medical Center (DHMC), is transforming the child mental health system in New Hampshire by training community-based behavioral health and related providers in evidence-based approaches and treatments for child trauma. Thanks to a new five-year grant from the National Child Traumatic Stress Network and funded by the Substance Abuse and Mental Health Services Administration, the DTIRC team recently launched Project ATTAIN: Access to Trauma-informed Treatment and Assessment for Neurodivergent and/or gender-expansive youth.
 
Screening, training, and disseminating
Kay Jankowski, PhD, director of DTIRC, an associate professor of psychiatry at Geisel, and director of psychology services at DHMC, says, "The goal of Project ATTAIN is to improve services for this vulnerable population by developing screening methods to better identify trauma-related problems, training community caregivers in trauma-informed treatment, and creating a curriculum to share with behavioral health workers beyond New Hampshire."
Also a member of the Dartmouth Hitchcock Transgender Identity Clinic, Jankowski further explains that compared to cisgender individuals, transgender and gender non-conforming youth have higher rates of both IDD and trauma. "How do we best meet the needs and promote the health of these kids?" she says. "These are some of the biggest issues in the pediatric behavioral landscape today."
Erin Barnett, PhD, who's co-leading the project with Jankowski and is an associate professor of psychiatry and of The Dartmouth Institute for Health Policy & Clinical Practice, says, "Asking 'what happened to you?' is at the core of trauma-informed care. Children with IDD aren't often asked that question, but they should be."
 
Hope for caregivers and for children
Psychiatrist Jennifer McLaren, MD, who oversees Behavioral and Neurodevelopmental Services (BANDS) at DHMC, is DTIRC's clinical consultant on the trauma screening tools and provider trainings. BANDS is a regional leader in the care of patients with IDD and it will serve as the testing ground to pilot screening and assessment practices prior to rolling them out to community-based agencies.
"We have evidence-based interventions on how to treat people who've suffered trauma, but there are currently not enough people in the region who are well-versed in those interventions and taking patients with IDD," says McLaren, who is also the medical director for the Bureau of Developmental Services in New Hampshire and an associate professor of psychiatry, of pediatrics, and of The Dartmouth Institute. "This project will increase the workforce available to care for this patient population."
Kelly Smith, LICSW, a therapist based in Concord, N.H., specializes in working with children who've experienced trauma—including neurodivergent and gender-expansive youth. The director of training for New Hampshire Court-Appointed Special Advocates (CASA), Smith has partnered with DTIRC on other grants and will be leading the trainings in trauma-informed care.
Smith describes a patient who'd lived in poverty, witnessed domestic abuse, and moved frequently as a child. Then she was raped. "Therapists insisted that this patient couldn't do trauma work because she's cognitively delayed," Smith says. "She was living in a residential treatment center and had 300 incident reports a month, ranging from self-harm to harm to others or to property. I began doing trauma work with her and within half a year her incident reports were down to 100 a month. Now, a couple years later, she has one per quarter."
She continues, "Trauma gets stored in the body, in the mind, and in the soul, and if you don't address it, it's going to come out somewhere. But you do trauma work with these kids and they need fewer hospitalizations, they can spend more time with their families and in their communities, and they gain a sense of hope—often for the first time in their lives."
Image

Meeting the mental health needs of at-risk kids
Other members of the Project ATTAIN team include experts from Boston Children's Hospital, Children's National in Washington, D.C., Cincinnati Children's, and Cohen Children's Medical Center, Northwell Health in New York. Throughout the five-year grant, faculty from The Dartmouth Institute's Center for Program Design and Evaluation will be engaged in a continuous evaluation process to ensure the project is meeting its objectives.
While the ultimate goal of Project ATTAIN is to create a trauma screening and training curriculum that can benefit neurodivergent and gender-expansive youth anywhere, team members are hoping the grant will lead to more support for related programs and services at DHMC. At the top of their list is the establishment of a clinic within BANDS to address the mental health needs of children who present as neuro- and gender-diverse.
"As the number of children who identify as gender non-conforming grows, there's an increased demand on psychiatrists and psychologists to provide diagnostic evaluations," says McLaren. "Though not all of these kids are neurodiverse, we're interested in knowing if they have underlying autism, and caring for them in terms of their higher risk of trauma."
Whatever comes next for DTIRC, Smith is grateful to be part of the team. "They're doing fantastic, profound work. What a benefit to our youth and to the people caring for them."