See all Stories
House Calls Make a Comeback
As former emergency medical technicians (EMTs) in rural communities, Nick Valentini '20 (D'13) and Karissa LeClair '21 arrived at Geisel with insights into the challenges of meeting the health care needs of rural populations. They used their knowledge to develop and launch a community paramedicine project that partners medical students with Upper Valley Ambulance paramedics and EMTs to make house calls—the first partnership of its kind in New Hampshire.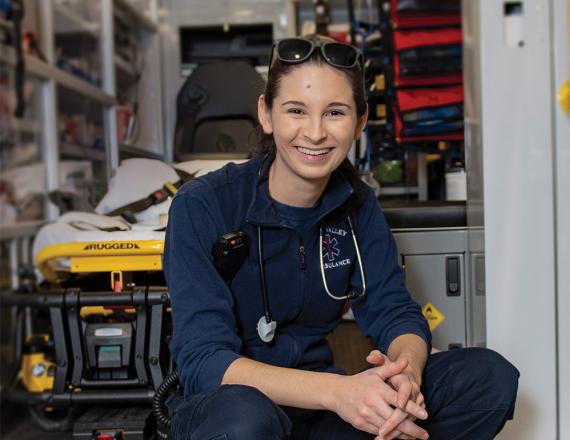 Community paramedicine is an emerging field that allows emergency medical staff to provide routine primary care to underserved populations. Some rural patients who lack easy access to primary care use 911 services for non-urgent health care, which can burden emergency services. Community paramedicine eases this burden by proactively meeting the needs of these rural residents.
 "Providing preventative care is a great bridge between primary care and emergency medicine," LeClair says. "As medical students, we have no idea what patients experience in their homes and the same is often true of physicians who send patients home with instructions to either take medications or modify their behavior without understanding what obstacles there may be to patients complying with those instructions. Nick and I saw these obstacles as EMTs, so we wanted to bring that awareness to medical students while also being a resource for patients."
The project took shape while both Valentini and LeClair were Rodis Fellows during their first year at Geisel. The Pano Rodis Fellowship in CompassionCentered Medical Care encourages medical students to design and implement an independent project. The community paramedicine program launched in the New Hampshire towns of Orford and Piermont in 2018 and is expected to expand into Vermont.
"Our mentors and the directors of the Rodis Fellowship provided a lot of support as we planned the program. That and the support we received from Dartmouth-Hitchcock and Upper Valley Ambulance ultimately made this successful," says Valentini.