See all Stories
Learning in a Community Clinic
When students arrive at Geisel, they dive right into their clinical training with a two-year On Doctoring course. Through hands-on experience—first in a simulated clinical setting and then at regional clinics—and close collaboration with faculty mentors, students learn the fundamental skills required to develop into highly competent and compassionate physicians.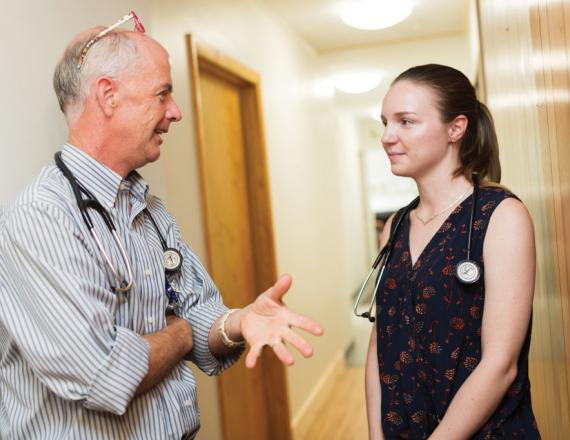 Sasha Pashchenko '22 is gaining her clinical experience at Little Rivers Health Care in Wells River, Vermont, with preceptor Stephen Genereaux, MD, a Dartmouth medical school alumnus. 
"Dr. Genereaux is a great teacher, he encourages me to do new things all the time," says Pashchenko.
Working at a community primary care clinic, Pashchenko has been exposed to a wide variety of patients, from six-day old twins to people with diabetes, thyroid conditions, or substance use disorders. She's learned how to conduct patient interviews, complete physical examinations, and perform ultrasounds. 
Pashchenko and Genereaux also work together on Project Salud, a student-run initiative that Genereaux helps to coordinate, which brings health care to seasonal agricultural employees.
"Access to health care can be daunting for many rural populations," says Pashchenko. "One solution is to bring the care to them."