See all Stories
A Lifeline for Rural Cancer Patients
This treatment facility—a satellite of Norris Cotton Cancer Center, the National Cancer Institute-designated Comprehensive Cancer Center at Dartmouth-Hitchcock Medical Center (DHMC) in Lebanon, New Hampshire—provides chemotherapy and radiation for rural patients, who often face a variety of barriers to accessing care. Transportation is one of the biggest challenges for this population, says NCCCN director Nirav Kapadia, MD. Long commutes are costly for patients and their families—and when they prevent people from seeking care altogether, they can even cost lives. Before this facility was established, many patients had to drive up to four hours roundtrip to DHMC.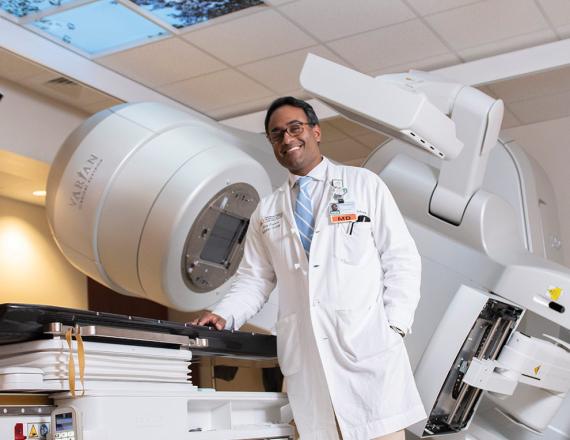 Historically, rural patients also have had difficulty accessing clinical trials, which are usually offered only at academic medical centers. NCCCN breaks that mold—and its trials not only benefit its patients, but also medicine as a whole. 
"If researchers only recruit clinical trial patients at academic medical centers, the findings of those studies won't necessarily be generalizable to the majority of the population," Kapadia says. "Clinical trial patients tend to have more favorable outcomes just from having the resources to get to an academic center—so having a robust clinical trial network in the community is extremely important. This allows for more meaningful interpretations of research."
As a graduate of The Dartmouth Institute for Health Policy and Clinical Practice at Geisel, Kapadia is passionate about improving—and saving—the lives of underserved patients. To be sure, there are still barriers to be addressed. For example, he's currently exploring ways to ease the financial hardships cancer patients often face. 
"The Cancer Center in St. Johnsbury has changed the dynamic for cancer patients in northern Vermont and northern New Hampshire," Kapadia says. "We get to cure cancer. That's always fulfilling. But the most fulfilling part of our job is knowing we're there for some patients who would otherwise never even be treated."
In addition to St. Johnsbury and Lebanon, Norris Cotton Cancer Center has locations in Manchester and Nashua, New Hampshire, and Bennington, Vermont—so more people throughout Northern New England can receive world-class cancer treatment closer to home.