See all Stories
Mother. Mentor. Scientist. Entrepreneur. Arti Gaur and Her Fearless Pursuit
For scientists like Arti Gaur, PhD, entrepreneurship is essential to achieving their ultimate goal: dramatically improving patients' lives.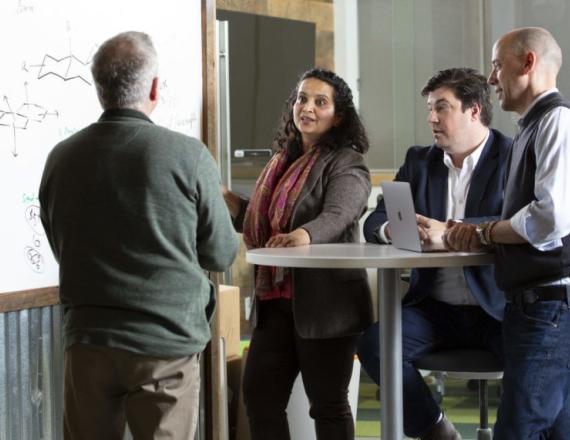 "If you truly are passionate about making a difference, please follow through," Gaur tells the students she mentors in her lab at Dartmouth's and Dartmouth-Hitchcock's Norris Cotton Cancer Center. An assistant professor of neurology at the Geisel School of Medicine, Gaur applies her training as an immunologist to study the development and treatment of brain tumors. She insists that her students conduct their scientific and academic work with "absolute rigor and excellence." But she also pushes them further. 
 "You can't just go from lab to humanity. You need things like intellectual property and venture capitalists."

Arti Gaur
"Make sure the consequences of your discoveries reach humanity," she says "and you can't just go from lab to humanity. You need things like intellectual property, you need venture capitalists, you need to talk to them, present to them, and convince them that your project is an endeavor that they should fund." 
Gaur has done all of those things, herself, multiple times. She admits it's been a steep learning curve. In her many years of scientific training, she never learned how to bring a discovery to the marketplace. Those lessons came later, when pure frustration and grief set her on a path toward entrepreneurship.
No Time to Waste
Gaur was in the second year of her doctoral training at the University of Cologne when her mother was diagnosed with B-cell lymphoma—the very cancer she had studied as a graduate student at the University of Rochester. Her mother died six months after her diagnosis, not from the cancer but from the side effects of the cancer treatment. 
"I used to think the saddest day of my life was when my mother passed away," recalls Gaur. Then, shortly after she became an assistant professor at Geisel and received the National Brain Tumor Society's prestigious Daniel Paul Bogart Chair of Research, her second child was diagnosed with Rett Syndrome, a severe neurological condition that would require a lifetime of round-the-clock care. "My husband and I were devastated, burned down to ashes." They had to build a new normal for themselves, their family, and their research programs. (Gaur's husband, Makul Sharma, PhD, is a professor of earth sciences at Dartmouth who studies geological processes.)  
"My child taught me how to be fearless and focus on what really matters," says Gaur. She draws on this fearlessness, this determination in the face of a devastating illness, to power her science, her entrepreneurship, and her mentorship of students. 
Gaur wants to find ways to monitor cancer treatments in real time to prevent "horrific, systemic side effects," to detect brain diseases early, to deliver treatments directly to tumors, to recognize unhealthy changes in the immune system—and she wants to achieve all this as quickly as possible. She knows that when a loved is suffering, there is no time to waste. 
Gaur already holds seven patents that range from diagnostic biomarkers and potential treatments for brain tumors to tiny wireless devices to detect cancer and deliver targeted therapies. She also leads a multi-institutional, prospective clinical trial, which aims to establish ways to diagnose, predict outcomes, and monitor treatments for brain tumor patients using only a few milliliters of blood. 
Learning the Science and the Industry
"Dr. Gaur embodies exactly what I was looking for," says Jordan Isaacs, a third-year graduate student in Geisel's Program in Experimental and Molecular Medicine. Gaur is helping Isaacs pursue both her PhD in Cancer Biology, Pharmacology, and Molecular Therapeutics and her ambitions to work in venture capital. Isaacs wants to be the one assessing which technologies, new therapies, and other innovations to support. In her first year at Dartmouth, Isaacs became a Healthcare Fellow at Ulysses, a local biotech venture fund. "I was able to see the full picture of how to bring a drug from the bench where I'm working to really being looked at as a potential investment," says Isaacs.  
For Isaacs, the focus of her laboratory work so far has been a new "drug-like" steroid that appears highly effective in treating brain cancers and was created by Dartmouth chemist Glenn Micalizio, PhD. Isaacs is also working closely with Dartmouth's Technology Transfer Office, which will help Micalizio and Gaur move the therapy from academia to industry—a critical step on the way to clinical trials in patients. Dartmouth's Magnuson Center for Entrepreneurship and the Technology Transfer Office use their knowledge of intellectual property, private industry, and venture capital to assist researchers at Dartmouth. (See "Alumni Gifts Launch Entrepreneurial Accelerator".)
Right Partners, Right Strategy
The collaboration with Micalizio is one of several for Gaur. She is also co-founder of a new company with Axel Scherer, PhD, a professor at Caltech. Gaur and Scherer are developing wireless nanoscale sensors that can be implanted in the body to monitor signs of health and disease—and ultimately detect cancers early. That's especially important for brain cancers, which are almost always detected too late for life-saving treatment. The technology is still years away from testing in humans, but if Gaur and Scherer can attract enough financial support through federal grants, investors, and philanthropists, they can accelerate that timeline. 
Another collaborator of Gaur's is Solomon Diamond, PhD, at Dartmouth's Thayer School and co-founder of Lodestone Biomedical. Lodestone struggled for years to attract funding and investors, despite having a remarkable imaging technology based on magnetic nanoparticles. 
"We needed a collaborator with deep subject matter expertise and a track record of experience in translational work," says Diamond. "That search led us to Arti."
With Gaur as a scientific advisor, Lodestone refined its market strategy. Tumors are not isolated islands, Diamond learned. They are living communities of cells that are constantly interacting with and attempting to evade the immune system. Lodestone is now pitching its technology as a way to monitor new therapies in real time, thereby reducing the risks of clinical trials for both patients and companies. Using this approach, Lodestone recently secured a major federal grant (details below) that will fund the development of the technology, making it more appealing for investors and moving it closer to clinical trials.
Philanthropy has also been critical to Lodestone's progress. In 2018, Diamond received the J. Brian and Allie J. Quinn Scholars award, which helped him find the right strategy for Lodestone and develop himself as a faculty entrepreneur. 
"The collaborations and idea sharing that came out of the Quinn Scholars is just so much more than the dollars," says Diamond. As a requirement of the Quinn award, Diamond presented to several experienced biotech entrepreneurs and investors. Their guidance, along with Gaur's, led to a $400,000 Small Business Innovation Research (SBIR) grant from the National Cancer Institute (NCI). Dartmouth-affiliated companies have secured more than 20 such NCI-SBIR grants in the last decade—making it sixth in entrepreneurship among all NCI-designated comprehensive cancer centers. 
The Cancer Center ranks sixth nationally for entrepreneurship among National Cancer Institute-designated Comprehensive Cancer Centers." 
An Entrepreneurial Ecosystem
"A couple years ago, program leaders at the National Cancer Institute invited themselves to come visit us, to find out what was in the Dartmouth secret sauce for entrepreneurship," explains Steven Leach, MD, the Preston T. and Virginia R. Kelsey Professor at the Geisel School of Medicine and director of Norris Cotton Cancer Center. "What they saw was deep integration between our Cancer Center, Dartmouth-Hitchcock, the Geisel School of Medicine, Thayer School of Engineering, and Tuck School of Business. And it was this interaction that they recognized created a naturally entrepreneurial ecosystem." 
Want an example? Look no further than Arti Gaur. 
Physician-researchers at the Cancer Center taught Gaur about clinical trials—both the protocols and how to discuss the research with patients who have just been diagnosed with brain cancer. Engineers at Thayer and chemists at the College responded to Gaur's search for technologies that would help her solve scientific and clinical challenges. And advisors at Dartmouth's Technology Transfer Office and the Magnuson Center for Entrepreneurship guided her through patents, small business grant applications, and pitches to investors. 
Philanthropy has played an essential role, too. In the long list of start-up companies to arise out of the Cancer Center, nearly all began with small studies funded by donations from individuals and private foundations.
In the journey from the lab to changing patients' lives, Gaur knows that "every step matters." The question that keeps her charging forward is "How do you make it matter more?"