See all Stories
An Outdoor Oasis at the Jack Byrne Center
In September 2020, at the height of the COVID-19 pandemic, Kyle Buttice could receive only two visitors at a time to his room at the Jack Byrne Center for Palliative and Hospice Care. The 33-year-old from Newport Center, Vt., was in the final stages of cancer, and he had a devoted crew of family and friends—along with Dartmouth-Hitchcock (D-H) caregivers—who wanted to support and comfort him. Warmly welcomed by Jack Byrne Center staff, Kyle's loved ones were able to be with him every day of his six-week stay, gathering outside and taking turns joining him in his room.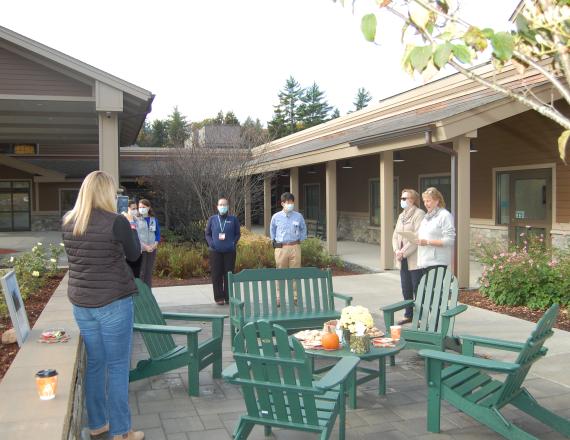 "We called ourselves Kyle's Herd," says Trish Buttice, Kyle's mother. "Sometimes as many as 14 of us were there at once, hanging out in a spot by the parking lot. It felt like we were tailgating."
Vince Buttice, Kyle's father, soon realized that their gathering spot—a large patch of worn grass—could be transformed into a space designed for families like his. Shortly after Kyle died, the Buttices, family, and friends donated $11,000 in funds and materials to create a beautiful stone patio for visitors to the Center. They named it Kyle's Place.
The Jack Byrne Center did so much for Kyle, we can't say enough about it," says Vince. "And we want other people to have the great experience we had there."
At Home at the Center
During his time at the Center, Kyle played cribbage with his wife, Raven; threw a ball to his dog, Jake; and ate the foods he craved thanks to the head chef, Peggy, who'd make him anything he wanted. From his bed he could look out his large double doors and see turkeys pecking at weeds and the slow changing of the leaves. When he felt well enough, he'd join his visitors outside.
Trish recalls Raven saying to Kyle, "What is home? It's friends, family, your dog. You have all that here. We've made this home for you."
Kyle's D-H caregivers went out of their way to make him and his family and friends feel comfortable. Among his daily visitors was Keisuke Shirai, MD, Msc, the oncologist who'd been treating Kyle since his diagnosis four years earlier, as well as palliative medicine specialist Charles Whang, MD; social worker Betty Byrnes; and nurses like Nancy Scalise, Kim Haller, Anna White, and Jordan Hall.
Image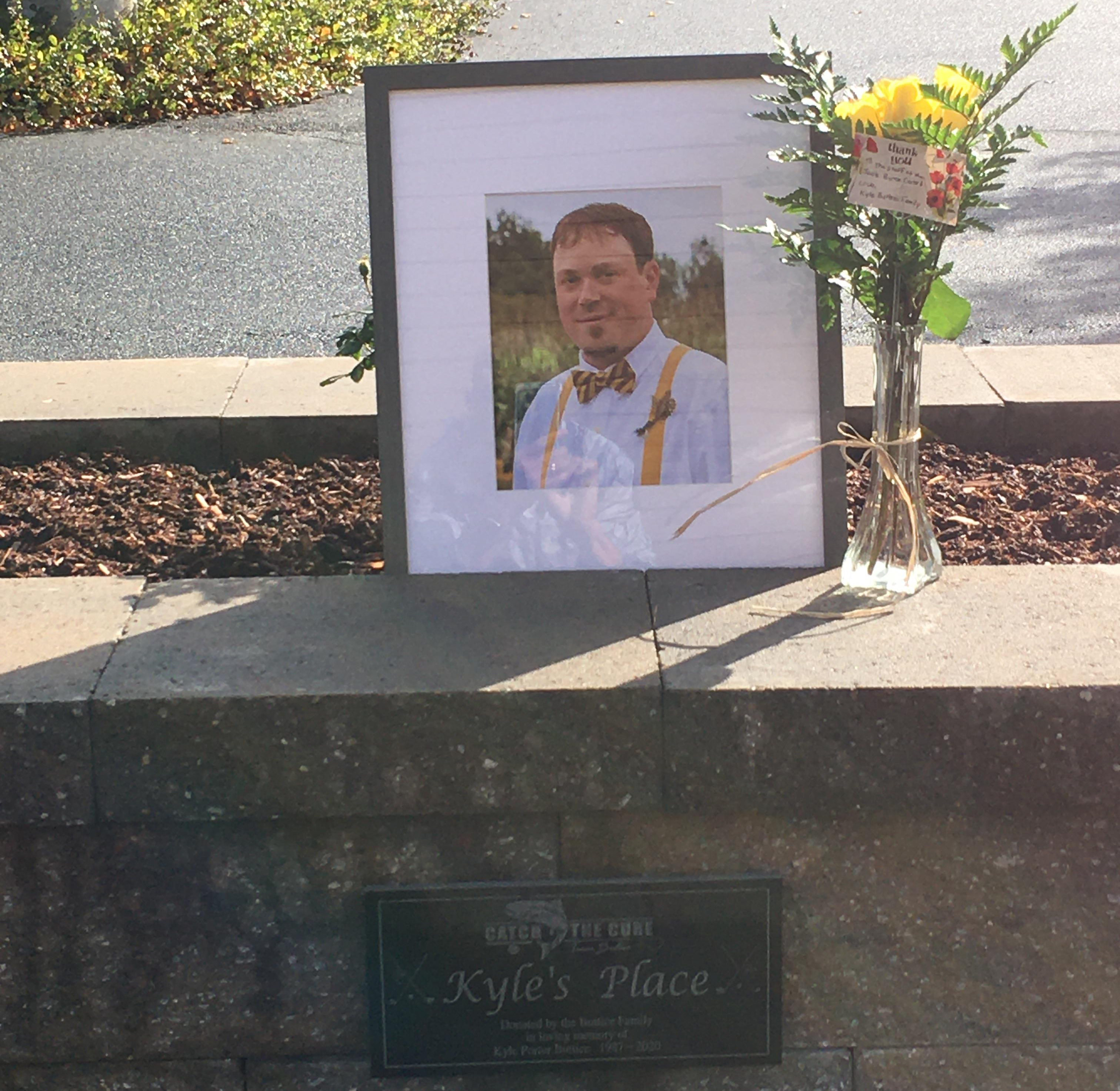 The way the entire nursing staff talked to Kyle, how they handled him with tender loving care, was amazing," says Vince. "They were just as sensitive to us, answering our questions and telling us what they were doing. To see nurses in the trenches and do what they do and with such compassionate care—it's awesome."
 
A Generous Spirit Lives On
In October 2021, many of those caregivers joined a small group of Kyle's family and friends to dedicate Kyle's Place. The patio is decorated with yellow roses—Kyle's favorite flower—and includes a table, Adirondack chairs, and swing to give visitors an inviting place to spend time outside in the sunshine. Shirai brought a photo of Kyle to the ceremony and told the group, "I keep this on my desk and look at it every day. I will save lives because of what I learned from Kyle."
The Buttices are now directing much of their attention to the foundation they established, Catch the Cure. Named in honor of Kyle's love of fishing, the foundation raises money through events like golf tournaments—another of Kyle's passions—and donates the funds to assist families living with cancer.
"Kyle touched so many people's lives, and giving back was important to him," Trish says. "What we do through the foundation keeps Kyle around us."
Kyle Buttice's generous spirit lives on at the Jack Byrne Center too, in a welcoming patio offering respite and peace, aglow with yellow roses.
---
To learn more about supporting the Jack Byrne Center, email Bethany.Solomon@Dartmouth.edu or call 603-646-5134.