See all Stories
Philanthropy Powers Innovation: The Dartmouth Innovations Accelerator for Cancer
Every big idea is a seed of change, but it takes support to help them grow. Philanthropy is crucial to give investigators the time and resources they need to develop their ideas, collect data, and make life-changing discoveries. In 2020, visionary donors helped establish the Dartmouth Innovations Accelerator for Cancer—a program that provides researchers with the support, entrepreneurial guidance, and infrastructure needed to bring new cancer treatments to patients more quickly.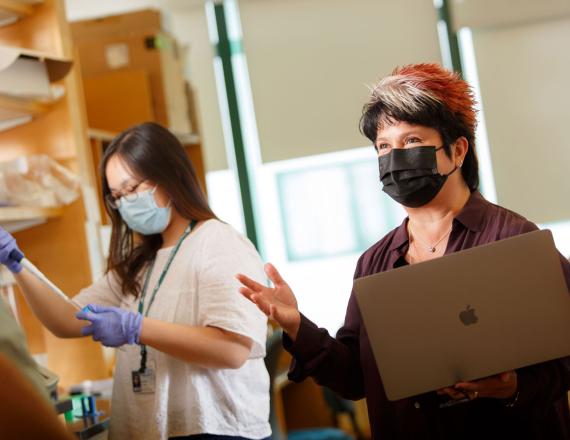 Yolanda Sanchez, PhD, uses an automotive analogy to describe some types of cancer cells: They're like cars with two gas pedals and no brakes. As a cancer researcher, she looks for ways to crash that out-of-control car without harming the normal cars around it.
"A lot of cancer drugs harm normal cells almost as much as tumor cells," says Sanchez, a professor of molecular and systems biology at the Geisel School of Medicine and associate director for basic sciences at Dartmouth's and Dartmouth-Hitchcock's Norris Cotton Cancer Center. "My lab focuses on finding drugs that can kill a tumor cell and not harm the person."
Scientists like Sanchez who study cancer share a common goal: to make life better for patients. Dartmouth researchers are dedicated to improving outcomes for the estimated 1.9 million men, women, and children newly diagnosed with cancer in the United States every year. Unfortunately, it takes about 20 years for a discovery to progress from the laboratory to the marketplace, and just 1% of promising ideas complete the journey successfully. The Dartmouth Innovations Accelerator for Cancer aims to change that.
The Accelerator has a goal of raising a total of $15 million in philanthropy and is a fundraising priority within Dartmouth's Call to Lead campaign."

Reaching Patients Sooner
The Accelerator was launched in 2020 to help scientists like Sanchez bring new cancer treatments to patients more quickly. A joint initiative between the Cancer Center, Geisel, and Dartmouth's Magnuson Center for Entrepreneurship—and supported by philanthropy—the program provides researchers from across Dartmouth with the entrepreneurial guidance and infrastructure needed to translate innovations into diagnostics, devices, and treatments for patients through commercialization.
"When you look at the number of biotech start-ups that have spun out of our Cancer Center, it's astounding," says Steven Leach, MD, director of the Cancer Center and the Preston T. and Virginia R. Kelsey Chair in Cancer at Geisel. "The Accelerator builds on our history and culture of collaboration and innovation."
In its first year, the Accelerator attracted 17 research teams—one of them led by Sanchez—including 41 faculty and students, all eager to turn discoveries into life-changing treatments for patients with cancer. In a 10-week course taught by instructors from Simbex and Celdara Medical, two local biomedical companies, Accelerator participants learned about biomedical entrepreneurship, pitching to potential investors, regulatory requirements, and how to generate new invention disclosures and patents, and they created step-by-step, multiyear plans for the commercialization of their innovations. Although not typically the realm of biomedical researchers, these are all skills needed to ensure that a drug or device reaches its end goal of impacting the lives of patients. Participants also have access to a network of Dartmouth alumni who serve as industry guides and mentors throughout the program and beyond.
At the conclusion of the first year of the program, the teams participated in a two-day pitch competition and an external review panel of successful biomedical entrepreneurs and investors selected three winning teams to receive awards of $300,000, $100,000, and $50,000. That money will fund critical next steps in the development of high-potential cancer treatments.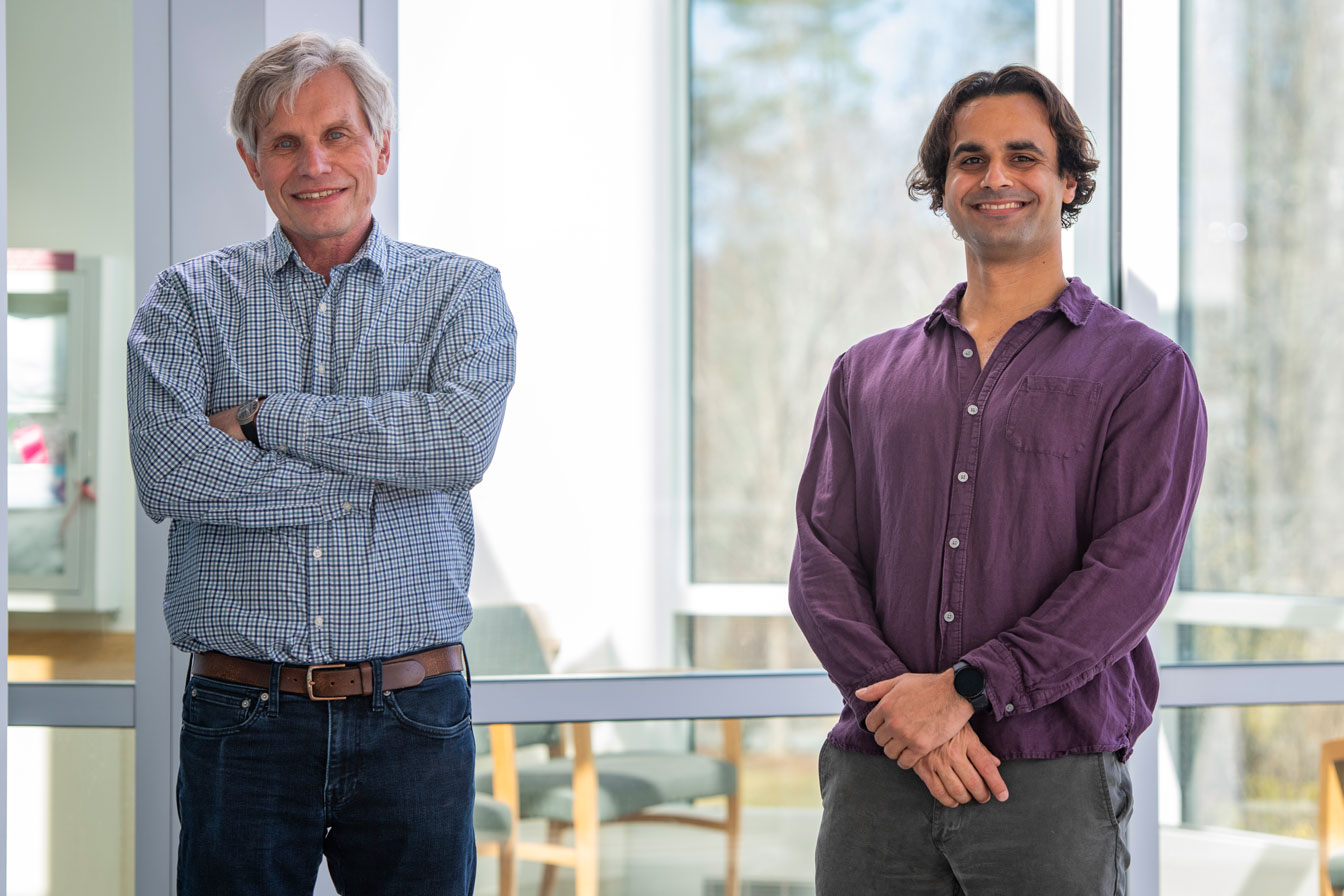 A cancer-driving gene known as MYC plays a central role in tumor growth in breast, colon, and lung cancers as well as in leukemia, lymphoma, and melanoma. Yet because MYC is also essential to normal cell growth and to human life, it has long been considered off limits for drug therapy. Accelerator award-winners Michael D. Cole, PhD (left), and Edmond J. Feris, PhD (right), have discovered a path to stopping MYC from creating tumors without interrupting its normal and life-sustaining functions. Photo by Kata Sasvari.
 
Awards and Rewards
This year's top prize was awarded to a team led by Arti Gaur, PhD, assistant professor of neurology at Geisel, for its project on a new potential therapy for high-grade gliomas, a kind of brain tumor for which the median survival is only 14 months.
"For three and half years, I have pieced together funding for this project," says Gaur. "This award will help us get to the next phase, where we can potentially attract the money that will be needed for clinical trials"—the next step in making this treatment available to the patients who need it most.
Though only three teams were awarded funding, all participants reaped the benefits of the program. Sanchez was especially grateful to learn the steps involved in getting a drug to human trials and then into the market. She also appreciated the opportunity to meet people on the business side of drug development. "A CEO on the review panel was interested in our project, so our initial 10-minute pitch turned into an hour-long pitch later," she says. "We received a lot of feedback from people who can help move our project forward."
Members of Sanchez's team included Dartmouth College undergraduates Cindy Takagawa D'21 and Albert Wang D'21, and Bernice Leung, a PhD student in Dartmouth's Molecular and Cellular Biology program. Sanchez notes, "It was empowering to see so many women participate in the Accelerator both as leads and as team members because the world of entrepreneurship is not, for the most part, a comfortable platform for women. And I think one of the things that Dartmouth does really well is include students in programs like this that give them such invaluable experience."
 
Strong Roots, Growing Branches
The next cohort of Accelerator teams will be welcomed into the program in late 2021 and will compete for the second annual awards in spring 2022. New offerings to this second round of participants include fast-track awards totaling $100,000, a more robust pitch preparation program, and new educational topics.
None of this would be possible without philanthropy. The Accelerator took off in 2020 when five Dartmouth alumni contributed $1.4 million. Since then, more alumni, parents, and friends of Dartmouth and its academic medical community have made gifts, bringing the total to $3.5 million. The Accelerator has a goal of raising a total of $15 million in philanthropy and is a fundraising priority within Dartmouth's Call to Lead campaign.
"There were so many deserving teams just in our first year. With greater philanthropic support, the Accelerator will be able to make more awards and enable more Dartmouth faculty and students to advance their innovations for the benefit of cancer patients everywhere," says Jamie Coughlin, director of the Magnuson Center. "That's the power of philanthropy and the Dartmouth entrepreneurial community."
---
To discuss ways to get involved through mentoring or making a gift to the Accelerator or to the Cancer Center, please contact Bethany Solomon at 603-646-5134 or Bethany.Solomon@dartmouth.edu.