See all Stories
Prouty Pilot Grants Fund the Future of Cancer Care
For many people, the phrase "artificial intelligence" (AI) conjures images of responsive robots and autonomous vehicles. But for scientists striving to improve the lives of people with cancer, AI is a visionary tool that can lead to better outcomes for patients.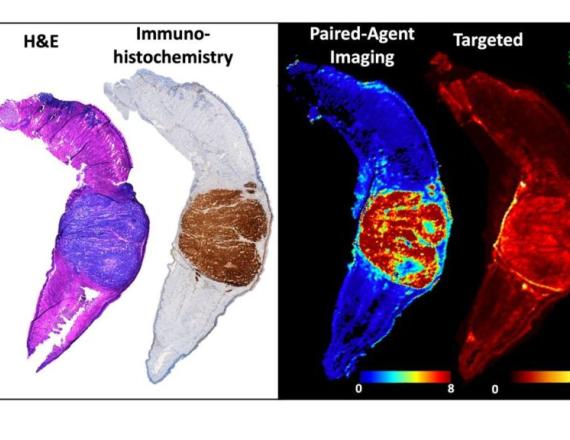 That's why its use is central to a number of research projects at Dartmouth and Dartmouth-Hitchcock's Norris Cotton Cancer Center (NCCC), including two that were recently awarded Prouty Pilot Grants—funding made possible through the support and efforts of Prouty participants, donors, and volunteers. Funds raised through The Prouty, the Cancer Center's top community event, have a direct positive impact on promising research focused on improving lives of those with cancer. 
Analyzing Tumor Margins in Real Time
In one of these projects, a team of NCCC bioengineers, pathologists, and surgeons is developing a new approach for real-time tumor margin analysis during surgery. For patients diagnosed with squamous cell carcinoma (SCC) of the skin or of the head and neck, complete surgical removal of these tumors offers the greatest chance at long-term survival, but surgeons are limited in their ability to know with certainty that they've removed every cancer cell. If tumor margins could be analyzed quickly and thoroughly in real time during surgery, patients with SCC would have less need for chemotherapy, radiation, or repeat surgeries, resulting in improved survival.
The research team designed a molecular imaging process that can visualize the entire region of the tumor and provide higher-contrast images in less time than other imaging techniques, providing hope for a more complete removal of all cancer cells in one operation. Pathologists receive high-resolution digital files of the tumor and can compare the sample against similar models identified by a computer while patients are still in surgery. 
They're also utilizing machine learning—a branch of AI in which a computer learns from data and tries to find indicative patterns—to build models of SCC that can be recognized electronically. This process guides surgeons and should improve outcomes.
 "Combining the rapid and specific detection capabilities of this imaging process with the sensitivity and accuracy of pathology machine learning algorithms is promising as a screening method for analyzing complete tumor margins quickly and accurately," says Matthew LeBoeuf, MD, PhD, section chief and director of Mohs Micrographic Surgery at Dartmouth-Hitchcock Medical Center (DHMC), an assistant professor of dermatology at the Geisel School of Medicine, and one of the principal investigators.
"Prouty Pilot Grants provide seed funding that allows investigators to make new discoveries and implement innovative cancer treatments, and our team is grateful for the support. We couldn't do it without The Prouty community. Thank you!"
Visualizing Health System Disparities 
In another Prouty-funded project, investigators are also making use of imagery and AI but, instead of visualizing tumors, they're modeling entire healthcare systems in order to identify disparities in end-of-life cancer treatment.
Inas Khayal, PhD, an assistant professor of The Dartmouth Institute for Health Policy & Clinical Practice and an adjunct assistant professor of computer science at Dartmouth, and Amber Barnato, MD, MPH, the Susan J. and Richard M. Levy Distinguished Professor in Health Care Delivery at Geisel and a professor of The Dartmouth Institute, developed the healthcare models through systems engineering. This method of analyzing a system combines separate elements—such as people, facilities, policies, and technologies—into one coherent whole. From that holistic picture, the investigators apply machine learning techniques to identify patterns indicative of health disparities based on age, gender, race, and geography.
"In the same way that a brain image allows us to see a patient's brain, we developed a healthcare delivery image that allows us to see what was delivered, by whom, where, and when over the last few months of life for a patient with cancer," says Khayal. "We hypothesize that not only will these detailed images allow us to find different patterns related to health disparities, but we will also be able to identify strategies to begin to address these disparities and ensure that patients receive the highest quality cancer care possible." 
"Supporting early-stage research and enabling scientists to gather preliminary data is essential for securing large research grants to further studies that can eventually lead to breakthroughs in cancer care," says Barnato. "For 40 years now, our generous community members have been helping to make our work possible—and helping to improve the lives of people with cancer and future generations—by participating in The Prouty."