See all Stories
A Quarter Century of Connection and Compassion
In a conference room stocked with supplies for families—loaded diaper bags, non-perishable food items, gun locks, lifejackets—Steven H. Chapman, MD, nods at William Boyle, MD, and says, "Bill is our mentor. He's our North Star."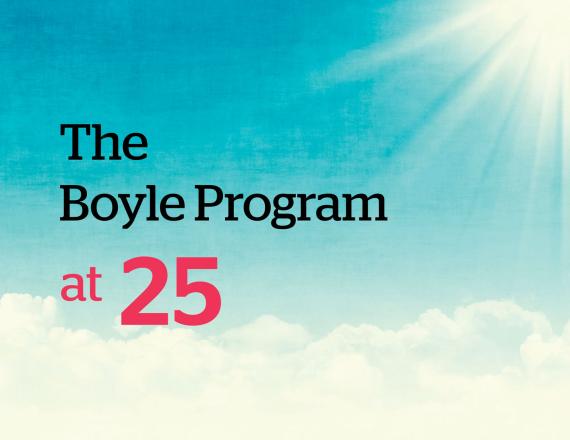 It's been 25 years since Boyle, a now-retired pediatrician, and Jane Stetson, a concerned parent, cofounded the Boyle Community Pediatrics Program at the Children's Hospital at Dartmouth Hitchcock Medical Center (CHaD). They recognized that sick kids and their families received a great deal of support while in the hospital, and very little outside of it. For a quarter century, the Boyle Program has been addressing this gap by partnering with families and communities, training medical students and residents in patient-centered care, and advocating for children.
"This program was the answer people were looking for," Boyle says. "The doors of a hospital must swing out, not just in."
For the last 10 years, Chapman, the Boyle Chair for Community Advocacy, a Dartmouth Health Children's pediatrician, and an associate professor of pediatrics at the Geisel School of Medicine, has served as medical director of the Boyle Program. He says, "Bill and Jane's vision is as relevant as ever. Engaging with families where they live and listening to their goals and needs helps kids and their families lead their happiest, healthiest lives."
Funded entirely through philanthropy, the Boyle Program carries out its mission through a variety of educational, clinical, and advocacy initiatives. Pediatric residents eat dinner with families at the Upper Valley Haven, a local resource to people experiencing food or housing insecurity, and provide medical backup at the shelter. They participate in Recovery Friendly Clinics for families affected by the opioid epidemic. They visit the homes of families with children who have a serious illness.
As they learn more about the needs of families, they take action: One resident has testified before New Hampshire legislators in support of paid family medical leave; another led a public forum on racism and the wellbeing of Black youth in the Upper Valley; and they all help determine what supplies should line the shelves of the conference room in which Boyle and Chapman sit.
"Bill and Jane saw what we as pediatricians could and should be, and 25 years later we're still realizing their vision and sharing it with the next generation of physicians," says Chapman.
"And it's all made possible thanks to philanthropy," Boyle says. "With additional support, we can continue to build and grow the bridges that connect CHaD and the communities we serve."
---
If you'd like to support the Boyle Program, contact Polly Antol, director of development for child health initiatives, at Polly.Antol@Hitchcock.org or 603-646-5316.