See all Stories
Leading the Way for Patients with Movement Disorders
Imagine trying to take a sip of your morning coffee and not being able to get the mug to your mouth. Or reading on your phone as it wobbles in your hand. Or going out to eat with your friends and the food tumbles off your fork.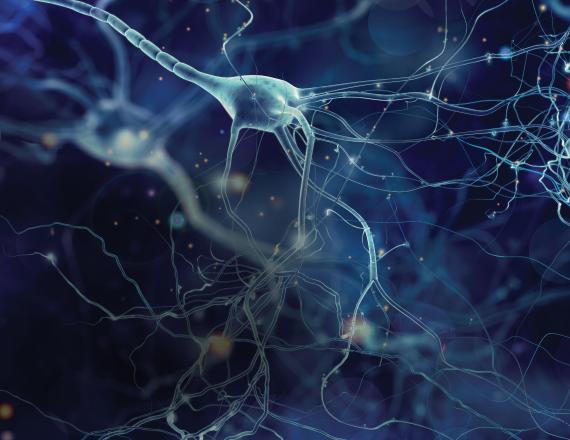 Millions of people in the U.S. live with Parkinson's Disease, essential tremor, or dystonia, three conditions that cause involuntary or uncontrolled movements. For patients with these neurological disorders, everyday activities can evoke feelings of frustration, embarrassment, and hopelessness.
Dartmouth-Hitchcock (D-H) physicians are making life better for people with movement disorders through deep brain stimulation (DBS), and they're doing it in pioneering ways. DBS involves surgically implanting electrodes into a specific part of the brain to provide highly focused electrical stimulation to that brain region. Stimulation is controlled by a small impulse generator battery (IPG) implanted in the chest wall, and connected to the electrodes by wires that run under the skin.
Joshua Aronson, MD, a D-H neurosurgeon and an assistant professor of surgery at the Geisel School of Medicine, led D-H's efforts to make the procedure more comfortable and less frightening for patients. Awake for the four-hour operation, patients typically need to have their heads placed in a clamp attached to the table. This year, D-H became the first hospital in New England to offer robotic DBS surgery, which uses a small robot to aid in the placement of the electrodes and allows patients to avoid the discomfort of the clamp. D-H is also the only hospital in Northern New England to offer completely asleep MRI-guided DBS placement as an alternative to awake surgery.
"For some patients, just the thought of what they would endure during surgery was a barrier to them seeking treatment," Aronson says. "I want people to know that there's a better option. Technology has changed the way we do surgery."
New technology has also allowed Anas Hannoun, MD, to become the first neurologist in New England—and one of just a handful nationally—to calibrate a DBS device remotely. People who have DBS devices can adjust them using a manual controller, but must also see their neurologists every three-to-six months to recalibrate the IPG and electrodes. When one of Hannoun's patients experienced a return of some Parkinson's symptoms, Hannoun was able to adjust her device from his laptop during a virtual appointment based on real-time feedback.
"If you had told me six months ago that I would have the capability to program a DBS device remotely, I'd have said, 'No way'," says Hannoun, a neurologist at D-H Manchester and a clinical assistant professor of neurology at Geisel. "Connecting to and adjusting the DBS device while our patient is at home is a huge breakthrough."