See all Stories
The teleNeurologist will see you now.
When it comes to stroke and other neurological emergencies, every second counts—it's the difference between successful rehabilitation and permanent disability or even death. But not all regional hospitals can staff an on-call neurologist in their emergency departments, and the closest specialist could be several hours away. That was the case on the day in mid-July when Michael Judd and his wife, Susan Judd, arrived at North Country Hospital, a small critical access hospital in Newport City, Vermont, after he had a stroke.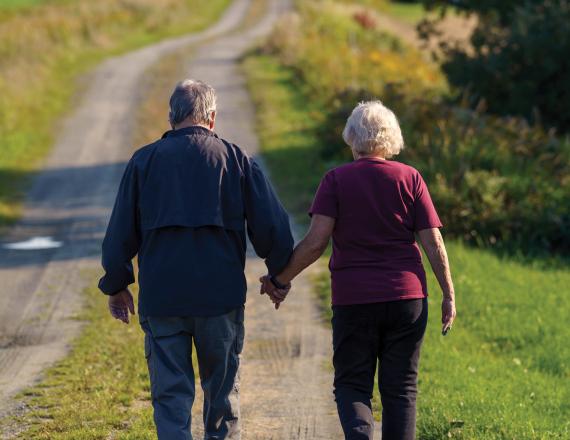 Marc Bouchard, MD, an emergency department physician at the hospital, immediately recognized Michael's stroke symptoms and, within minutes, initiated a high-definition audio-video consultation with a neurologist at Dartmouth Hitchcock Medical Center (DHMC). The consultation was part of Dartmouth Health's teleNeurology service, which launched in 2017 at three sites and now connects Dartmouth Hitchcock neurologists with 14 regional community access and critical access hospitals—no matter how far away they are, 24 hours a day, 7 days a week.
"Patients come in with all kinds of neurologic conditions, and you don't always have specialists at your fingertips to take over for you," says Bouchard, who estimates his hospital makes several video calls a week to DHMC. "Because of the teleNeurology service, you don't feel alone when you have to make critical, life-changing decisions on treatment."
Being able to provide our patients with continuity of care within our health system following their hospital discharge—whether through rehab at Mt. Ascutney or home health support by Visiting Nurse & Hospice of Vermont and New Hampshire—is so important."
Not only that, the service also saves precious time. Without a specialist on-call, many hospitals choose to transfer these patients to advanced care medical facilities like DHMC, when in fact they could be effectively—and immediately—treated right where they are. Unnecessary transfers only delay crucial, time-sensitive treatment.
A reassuring presence
In Michael's case, he was soon being examined by a neurologist who was 100 miles away: Keith McAvoy, MD, the medical director of the teleNeurology service and section chief of general neurology at Dartmouth Hitchcock Clinics Manchester.
Through advanced technology, including web cameras capable of allowing a physician to clearly examine a patient's pupils, McAvoy quickly determined Michael should receive the clot-dissolving medicine tPA, or tissue plasminogen activator. With confidence, the staff at North Country Hospital started the IV and, at McAvoy's direction, proceeded with the next steps of Michael's care.
"I felt very secure talking and listening to him even though it was a brand-new experience," Michael says. "Dr. McAvoy had everyone working on their own step. If that hadn't happened and I hadn't had that technology, there's a good chance I wouldn't be here talking to you today."
Bouchard confirms that McAvoy's support made all the difference—not only in expert medical care for Michael but also in confidence for the physicians and nurses, and peace of mind for everyone in the room. "These decisions are time sensitive, so we have to decide very rapidly, even though tPA can have serious side effects if used under the wrong conditions," Bouchard says. "Having backup from a tele-neurologist brings highly specialized medicine right to the patient's room. It's a stress reliever for us and reassurance for the family. It was like Dr. McAvoy was right there with us."
"In the old days before teleNeurology," McAvoy says, "these decisions at a remote hospital without a neurologist would have been made based on what information is provided in a phone call to a neurologist at another hospital. Maybe the patient is not even having a stroke; it could be a stroke mimic like Bell's palsy when the face suddenly becomes weak. You can usually tell if it's Bell's palsy if you see the patient, but you can't always tell if it's just described over the phone. You don't want to give tPA if the patient hasn't had a stroke because of serious complications. Having video can help make the determination about what to do."
Sometimes, McAvoy adds, "I would have had to drive to the other hospital, which causes delays in making decisions. The longer it takes to make decisions, the greater the chance of a detrimental outcome. Through audio-video, I can hear the patient well and see the patient well, like I'm doing a consult right there. It's a time-saving tool."
When it became apparent that Michael needed a thrombectomy, an additional interventional procedure to remove his blood clot, McAvoy ordered him to be transferred to DHMC, where he could receive the lifesaving procedure that North Country Hospital wasn't equipped to provide.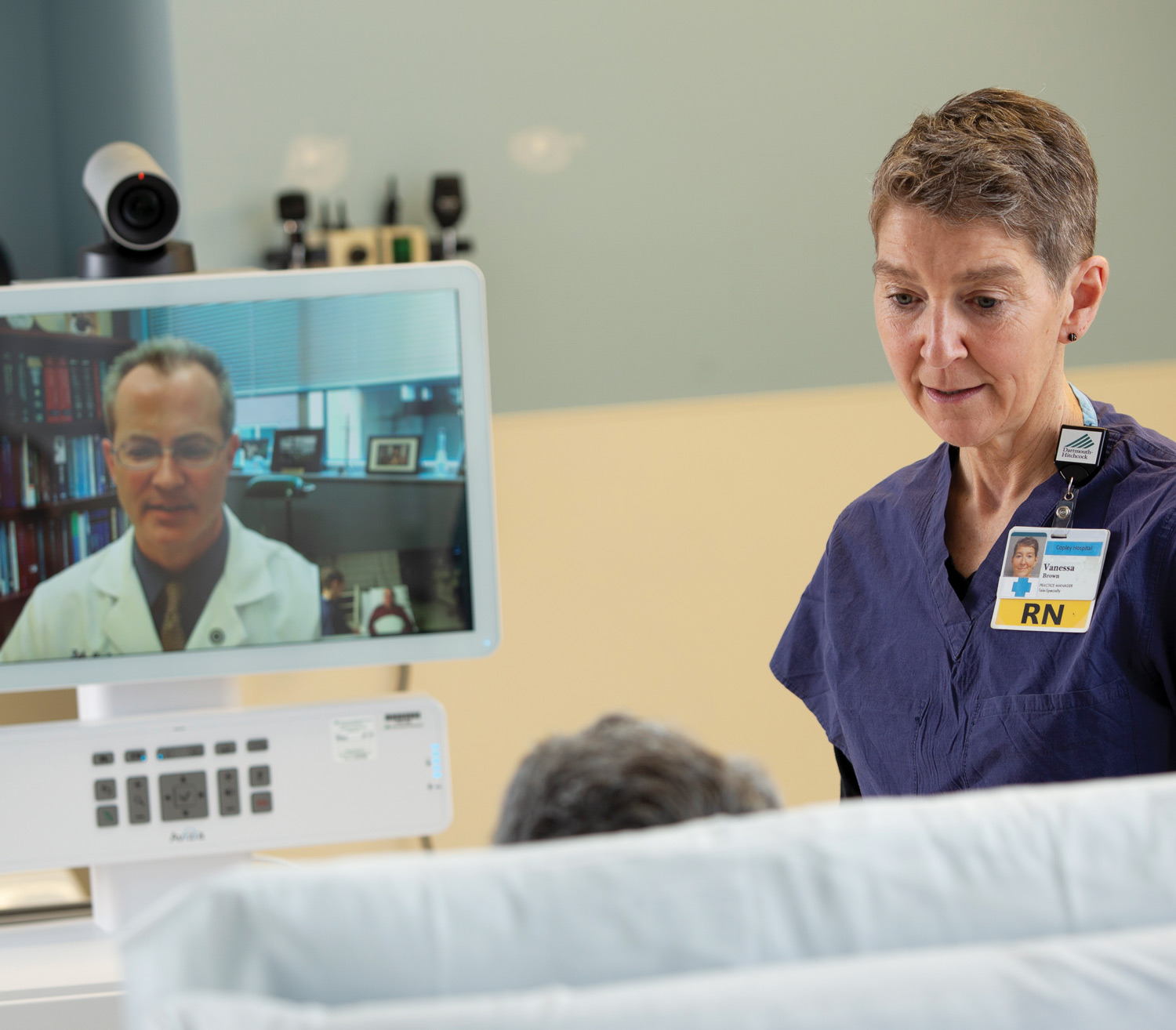 When time is of the essence
In addition to facilitating prompt, long-distance specialty care, the teleNeurology service also benefits patients in other ways. Most patients would prefer to remain close to home to be near their loved ones; through teleNeurology, a neurologist at DHMC can quickly determine whether a patient can be treated successfully right where they are, rather than being transferred. This also preserves DHMC's limited number of beds for the most critical patients who undeniably must be transferred. And students at the Geisel School of Medicine can observe teleNeurology consultations remotely, giving them experience for services they may provide to their future patients.
Dartmouth Health's telehealth services go beyond neurology, too. The Center for TeleHealth, founded in 2012, offers tele-support for other specialties and departments, including pharmacy, psychiatry, ICU, and neonatal ICU, as well as virtual outpatient, emergency, and urgent care. These telehealth services improve patient safety, outcomes, and convenience, and they augment specialty services at regional hospitals.
McAvoy says Michael is a testament to the increased patient safety and positive outcomes that tele-services provide. The Judds agree.
Thanks to the service, Susan says she expects a successful recovery for her husband, who returned home in mid-August, walking and talking clearly again after receiving treatment and physical therapy at Dartmouth Health's Mt. Ascutney Hospital and Health Center. She's extremely grateful for McAvoy's expert care. "We've been together 54 years, and I don't know what I would do without my husband."
Although Michael says he was reluctant to go to the emergency room, he now urges other patients to get to a hospital immediately when a medical crisis arises because time is of the essence.
"If other patients are like me, they might be afraid. You're always afraid of the unknown," Michael says. "But Dr. McAvoy saved my life."
---
Dartmouth Hitchcock Clinics neurology experts and the care they provide are nationally recognized. Maintaining that level of care and bringing it to more people requires investments in doctors, nurses, and staff. Now that patients can receive world-class neurological expertise in person or virtually, the need to expand our capacity grows with it. Philanthropy will ensure there are current and future funds to keep pace with demand and grow our renowned neurology team to help more patients in more places. To learn more, contact Matthew Hall at Matthew.R.Hall@hitchcock.org or (603) 667-6309.