See all Stories
Monitoring Wastewater for COVID-19
The presence of SARS-CoV-2—the virus that causes COVID-19—in municipal wastewater can give an early warning that the virus is re-emerging in that area. A team of Dartmouth-Hitchcock (D-H) researchers led by Isabella Martin, MD, and Jacqueline Hubbard, PhD, is now measuring the level of the virus in wastewater in specific communities or individual institutions such as nursing homes, prisons, and colleges throughout New Hampshire and Vermont. With these warnings, community leaders and public health officials could more promptly manage outbreaks.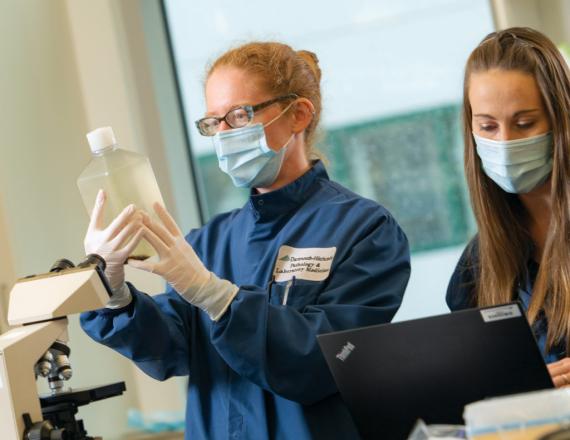 Wastewater surveillance will not replace human diagnostics, but is expected to complement it. Especially in institutional settings, it could provide an efficient, cost-effective, and less invasive signal of a significant spread of SARS-CoV-2.
A generous gift from Vickie and Ken French enabled D-H to launch this important work.
---
Photo: Co-leading the wastewater surveillance project team for D-H are (l-to-r) medical microbiologist Isabella Martin, MD, and clinical chemist Jacqueline Hubbard, PhD. Both are assistant professors of pathology and laboratory medicine at Geisel. The project coordinator is Gregory Tsongalis, PhD, vice chair for research and director of the Laboratory for Clinical Genomics and Advanced Technology in the Department of Pathology and Laboratory Medicine at D-H.