See all Stories
New Faculty Advance Health Equity
Ever since John "Jack" Wennberg, MD, MPH, began asking tough questions about healthcare in the 1970s, Dartmouth and the institute he founded have led the nation in challenging the status quo in healthcare. Four new professors will now help The Dartmouth Institute for Health Policy & Clinical Practice evolve, bringing their fresh ideas and perspectives and leveraging the Institute's unparalleled healthcare data sets and expertise in health services research.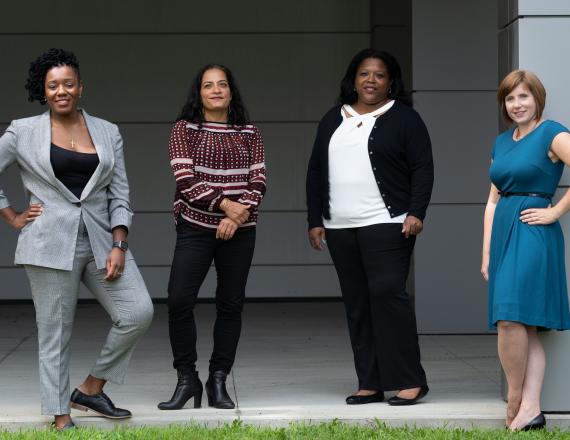 Home Is Where the Health Is
Terri Lewinson, MSW, PhD
One public housing complex might be well maintained, another allowed to deteriorate. Residents in one extended-stay motel might be able to walk easily to nearby shops, doctors' offices, and green space. In another, residents might find themselves on an island, encircled by traffic-choked highways and without sidewalks or reliable bus service. These differences can have a dramatic impact on physical and psychological health, especially for low-income older people, explains Terri Lewinson, MSW, PhD.
Previously at Georgia State University, Lewinson has found that factors less obvious than building design are crucial to quality of life, for better or worse. By conducting in-depth interviews with tenants, she documents how they view their lives and housing. Unlike quantitative work that captures trends and resource allocation, qualitative research uncovers people's individuality, which can be just as important when designing healthy communities.
"We all experience the world uniquely," says Lewinson, whose approach is informed by her training. She earned her doctorate at the University of Georgia School of Social Work. "My experience of joy will look very different from someone else's experience of joy."
A particularly powerful research method Lewinson uses is Photovoice—giving tenants cameras to document their lives. The photos then serve as springboards for conversation. One study participant photographed a busy highway next to their home and told Lewinson, "I can't cross this street." Another showed her a picture of an iron and said, "My husband hit me with this iron." The first photo led to a conversation about neighborhood walkability, and the second, a discussion about domestic abuse.
Lewinson's research interests continue to evolve. In 2017, she served as a Health and Aging Policy Fellow in the Washington, D.C., office of the late civil rights icon and Georgia Congressman John Lewis. Her portfolio included environmental issues.
"It opened my eyes to the inequities, not only arising from affordability and quality, but larger environmental issues," she says. The siting of low-income housing often exposes residents to industrial emissions, unclean water, and noise pollution.
Drawing on the expertise of her new colleagues at The Dartmouth Institute, Lewinson aims to expand her research to explore the intersection of housing and environmental issues—and ultimately inform better public policies and community programs that will enable more low-income people to live healthier lives.
What a Patient Wants
Christine Marie Gunn, MA, PhD
Like Lewinson, Christine Marie Gunn, MA, PhD, works to include the voices and perceptions of individuals, but her focus is on cancer and the decisions people make. Physicians and patients tend to view decision-making differently, Gunn explains. Physicians look at likely benefits and harms, while patients focus on what's important to them.
Gunn recalls a woman with kidney cancer who declined a drug because it would have made her hair turn white. In another study, she found that women chose not to take a medicine to prevent breast cancer despite being at high risk because they feared the rare side effect of stroke and were concerned about possible menopause-like side effects.
Gunn, who earned a doctorate in health services research at the Boston University School of Public Health and taught at Boston University School of Medicine, brings to Dartmouth her expertise in health literacy and working with ethnically and linguistically diverse patients. For instance, in a study completed in 2016, she analyzed breast density notifications (after mammograms) in 24 states and found that in most cases the notifications were difficult to understand and contained language whose complexity surpassed the average reading level of state residents.
At The Dartmouth Institute, Gunn will have access to unparalleled healthcare data sets and colleagues who are world leaders in patient decision making, health systems research, and in co-designing care with patients and families. With those resources, she plans to expand her work to include socioeconomic disparities.
Excited to be part of Dartmouth's collaborative environment, Gunn is also a member of Dartmouth's and Dartmouth-Hitchcock's Norris Cotton Cancer Center, where she has clinical partners to support her direct work with patients. And at Dartmouth College's Digital Applied Learning and Innovation Lab, students are assisting Gunn in the creation and building of a mobile application to help ensure that patients at all literacy levels can make educated decisions about their health.
Most importantly, Gunn will continue to center patients in her research, as she has done throughout her career. For a current study, she is hiring male prostate cancer survivors to interview men who had also completed prostate cancer treatment.
"Talking to someone who's been through a similar experience and can relate in different ways to study participants can sometimes generate a more open conversation," says Gunn. And that could make all the difference.
Research—and Action
Alka Dev, MHS, DrPH
New Hampshire and Vermont may not seem to have much in common with Haiti, Indonesia, Kosovo, Mexico, Bangladesh, and India. But for Alka Dev, MHS, DrPH, who has worked to improve maternal and newborn health in all of those places, she sees a similar story of health inequity. People face precarious housing and homelessness; unemployment or low-wage jobs; distrust of the care system; difficulty in finding transportation to clinics or hospitals; the inability to take time off work; and lack of practical support from people around them during a health crisis.
Dev joined The Dartmouth Institute last year after four years as a maternal and newborn health researcher within Dartmouth-Hitchcock Health. She previously earned a master in health science at the Bloomberg School of Public Health at Johns Hopkins University and a doctorate at The Graduate and University Center of City University New York. Much of Dev's recent research has focused on Haiti—including the effects of gang violence on women's decision-making during pregnancy, the quality of prenatal and neonatal nursing care, and women's choices about whether to give birth in a hospital or at home.
Dev is always looking for ways to make care more patient centered. "I'm really interested in redesigning maternal care from the perspective of the women who are using the system for several months during one of the most important times in their lives," she says.
In addition to conducting research, Dev teaches two health equity courses at The Dartmouth Institute and helped rethink the on-campus MPH program to implement a social justice thread across the curriculum.
Frustrated by what she sees as the failure of many healthcare systems to consider how factors outside the clinic affect patients' health, Dev wants her students to do more than recognize inequities in health and healthcare. "Ultimately, rather than simply studying inequities, it's important that we generate the necessary evidence on how to reduce them," she says.
Health Systems for All Identities
Ellesse-Roselee L. Akré, MA, PhD
"Ultimately, healthcare has been designed and delivered by heterosexual white men, studied by heterosexual white men, and, historically, those studied have been heterosexual white men," says Ellesse Roselee L. Akré, MA, PhD. As a result, healthcare systems often don't work well for diverse individuals.
No group is a monolith, she says. Within any group—even heterosexual white men—there are wide variations in social class, education, and circumstances. "That same thing applies to the LGBT community," says Akré, whose research focuses on the health and healthcare of lesbian, gay, bisexual, and transgender (LGBT) people, and of people who identify as Black, indigenous, and people of color (BIPOC). She examines how healthcare policy and healthcare itself have ignored the multiplicity of human experiences, identities, and bodies.
As a postdoctoral researcher at Vanderbilt University, Akré looked at how macrolevel systems contribute to health inequities including racism, sexism, ageism, and heterosexism. For her doctoral research in health services at the University of Maryland School of Public Health, she had studied differences in healthcare access in California among four groups: gay and lesbian people in cities and in rural areas, and bisexual people in cities and in rural areas. She found different problems with access in each of these groups; a study that grouped these identities together would likely have missed these important variations.
Through her research, Akré wants to give diverse individuals "information and tools they need to empower their communities, so they can advocate for themselves for better care and better policy."
At The Dartmouth Institute, Akré will bring her expertise in LGBT and BIPOC health not just to the Institute's research community but also into classrooms, from the undergraduate to the graduate level.
"We're forming the minds of our future leaders, educators, practitioners," says Akré. And those individuals will be the ones creating the more equitable health systems of the future.