See all Stories
Q&A with Amber Barnato: A New Dartmouth Atlas for a More Equitable World
Amber Barnato, MD, MPH, MS, began her directorship of The Dartmouth Institute for Health Policy & Clinical Practice on July 1, 2021. A physician-scientist with a special interest in end-of-life decision-making, Barnato has been a researcher and clinician at the Geisel School of Medicine and Dartmouth-Hitchcock since 2017. She was also the inaugural Susan J. and Richard M. Levy 1960 Distinguished Professor in Health Care Delivery at Dartmouth.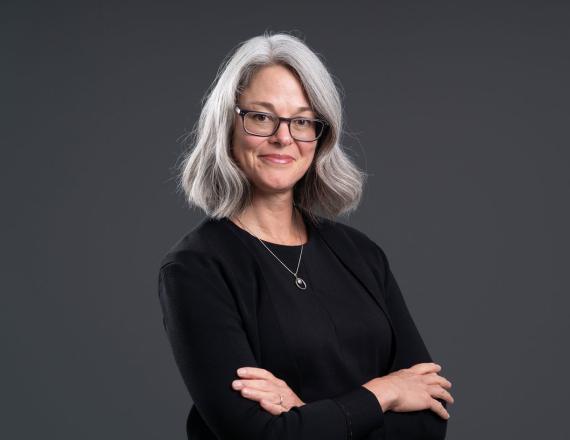 What is the role of the Dartmouth Atlas of Health Care at The Dartmouth Institute today?
The discipline of health services research really started with Jack Wennberg's small area variations studies in the 1970s. His research acquired a national scale in the 1990s through the Dartmouth Atlas. The Atlas informed some of the most important healthcare legislation of our generation, including the Patient Protection and Accountable Care Act in 2010. But the most burning policy questions have evolved considerably since the 90s and 00s. The Atlas needs to help the United States meet today's challenges.
Dartmouth, like the nation as a whole, is in the midst of a reckoning with institutionalized gender and racial inequality. I've been very interested in thinking about what our obligations are as a field—health services research—that has been shaped by a white racial lens. For example, with the Atlas, we have focused especially on overuse of medical care. Overuse is disproportionately a problem of insured people with access to healthcare. At The Dartmouth Institute, we've promoted shared decision-making as a strategy to "right size" medical care use. Yet shared decision-making is a privilege of people who engage in conversation with their clinicians and who have high levels of self-efficacy in what are predominantly white spaces.
We need scientists and practitioners who can help us center other voices in our work. To that end, we've hired four new health equity researchers. [Read more about the new hires here.]
 
How will this equity focus build on the legacy of the Dartmouth Atlas?
We will use a truth and reconciliation framework to reflect upon the legacy of the Atlas and to create a new Health Equity Atlas. For a national Health Equity Atlas, I hope that we can use our large repository of Medicare claims data to revisit some of our past work. For example, given what we know about segregation of healthcare delivery in the U.S.—that 20% to 30% of providers care for 80% of Black people—has Medicare service delivery become more or less segregated over time? No one has ever used 30 years of claims data as a lens to examine the ways that Medicare policy affects systemic racism in healthcare. This framework will allow us to challenge our own assumptions and ask new research questions.
We also envision designing a local version of the Health Equity Atlas here in New Hampshire. Stakeholders will participate in deciding what questions are most important to them and their communities. We can look beyond just healthcare to include water quality, housing, and other factors to assess health outcomes. Our approach might enable others to create local atlases for their communities.
These are all ideas at this stage. The Health Equity Atlas will depend on philanthropic support and broad community engagement to come to fruition.
 
What inspired you to take on this new vision for The Dartmouth Institute?
I love health services research and have a thriving lab devoted to studying end-of-life decision making. Providing palliative care to patients with serious illness and their families—many of whom are dying years younger than they would have if they'd been born into different social and economic conditions—keeps me connected to the broken realities of our system. I felt called to take on this new vision now through a recognition that my privilege as a white cisgender female with high educational attainment comes with responsibility. I hope that facilitating the research and educational missions of The Dartmouth Institute will have a greater impact on health policy and clinical practice than my individual lab ever could.
 
---
To learn how you can support The Dartmouth Institute's research and educational programs, please contact Bob Holley at 603-369-1129 or Robert.D.Holley@dartmouth.edu.