See all Stories
Answering the Plea for PPE
On March 18, 2020, Dartmouth-Hitchcock Health issued a plea to the communities it serves. "Yesterday, the White House announced a call-to-action for anyone who can donate any expendable personal protective equipment (PPE) to address the nationwide shortages that health care providers are facing. Dartmouth-Hitchcock Health (D-HH) echoes the urgent local need and requests donations of masks, face shields, isolation gowns, gloves, and hand sanitizer."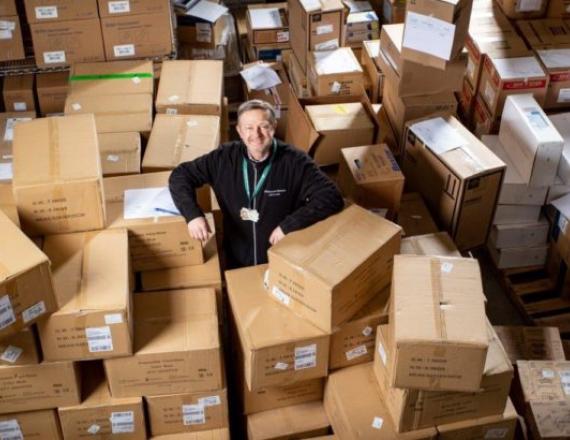 Michael Liu, a 20-year resident of Hanover and member of the Upper Valley Chinese Association was among the more than 265 donors to respond to this call for help. "Everyone in our small Chinese community has been rallying behind Dartmouth-Hitchcock during this challenging period because health care workers are our frontline heroes in fighting COVID-19," Liu says. He notes that many Chinese Americans in the Upper Valley retain strong connections with family and friends in China—people who'd already experienced the effects of the pandemic. "We knew what could happen here," says Liu.
Liu contacted Curtis Lancaster, vice president of supply chain for D-HH, and asked where the need was greatest. "At the very beginning, surgical masks were a most precious commodity," Lancaster explains. Within a week, members of the Upper Valley Chinese American community were spreading the word about the need at Dartmouth-Hitchcock (D-H), raising money, and sourcing product.
"Our campaign started locally, coordinated by a committee of the Upper Valley Chinese Association, led by Dr. Tao Sun. Some members of our community sewed homemade masks and children emptied their piggy banks," Liu says. "Faraway folks who used to live in the Upper Valley made significant contributions, too. Our friends in China provided valuable information on the quality of surgical masks and reliable shipping channels." Liu's group raised almost $17,000, and by April 8 had donated 32,000 surgical masks to D-H.
Reciprocity and Generosity
"Donations are a critical bridge when product isn't available through our distributors," Lancaster says. "I heard from people like Mr. Liu who could bring resources together, buy supplies, and donate them. And I heard from people who could help us access product we needed but they themselves didn't have the funds to buy it."
Monetary support of the COVID-19 Response/PPE Fund was crucial to filling that gap, and D-HH Board member Bill Conaty was among the first to contribute, with a generous gift of $100,000. Bill, who with his wife, Sue, launched the Conaty Institute for Transformational Health Care Leadership at D-H in 2015, says, "I've become close with a lot of folks through that leadership training and I've never met a more appreciative group of people. Now, I wanted to help ensure that the team at D-H is as prepared and well-equipped as possible."
D-H is part of our family. And when someone in your family needs help, you give it."
Lancaster describes the community response to D-H's call for donations as "amazing and heartwarming." By the end of April, D-HH had received donations of more than 18,000 cloth masks, 51,000 surgical masks, 35,000 N95 respirators, 740,000 pairs of gloves, 6,000 gowns, and 8,000 face shields, in addition to cash gifts totaling almost $1 million. It's become abundantly clear that the people who turn to D-H in their time of need are eager to return the favor.
"We're lucky to have an institution like D-H in this region," Conaty says. "As soon as I saw the plea for donations I responded."
For Liu and the Upper Valley Chinese Association, D-H, he says, "is part of our family. And when someone in your family needs help, you give it."