See all Stories
Bringing Mental Health Care into the Mainstream
New to the Upper Valley, a man with bipolar disorder found himself in trouble. He'd been managing his disease successfully for decades with lithium, but the drug had begun to damage his kidneys. Shortly after his nephrologist took him off lithium, the patient became suicidal. The first appointment he could get with a psychiatrist was months away. In deep distress, the man turned to his Dartmouth-Hitchcock primary care provider (PCP) for help.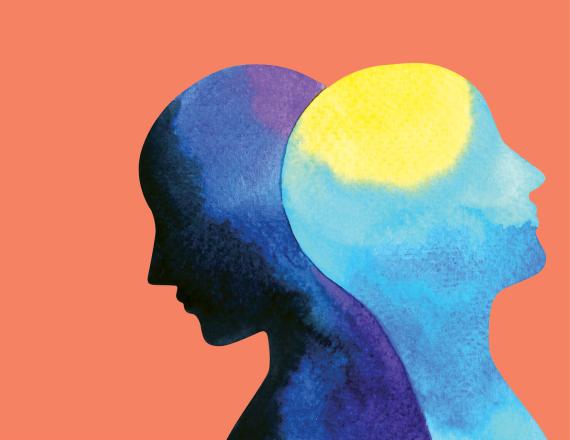 At Dartmouth-Hitchcock (D-H), most adult patients who present a mental health issue during a visit with their PCP have access to immediate counseling through Integrated Behavioral Health. Formally introduced at D-H Nashua in 2017 and now available at D-H clinics in Lebanon, Manchester, Concord, and Keene, this model of collaborative care embeds a licensed clinical social worker or licensed clinical mental health counselor within a primary care practice. These mental health providers can conduct same-day assessments, establish treatment plans, serve as a liaison between patients and community organizations, check in on patients after the initial visit, and offer short-term therapy. Cases are reviewed weekly by a supervising psychiatrist, and e-consults—an electronic communication system—allow PCPs to get guidance from a psychiatrist usually within 10 hours, and always within 24 hours.
Developed by a cross-disciplinary team of D-H caregivers, this collaborative care model was adapted from other models used throughout the country to meet the region's needs. The program supports PCPs in their ability to treat a wide range of mental health issues, from depression and anxiety to substance use disorders. 
Matthew Duncan, MD, a staff psychiatrist at D-H, assistant professor at the Geisel School of Medicine, and a Dartmouth medical school alumnus, was one of the clinicians who helped bring collaborative care to D-H. He says, "These are common medical conditions and it's a really positive evolution that mental health has moved into the mainstream of medicine."
Patients are screened for mental health issues through a pre-visit questionnaire, a tool that can help start conversations about mental health needs and initiate early interventions.
By asking people about depression, anxiety, and substance use, you get answers you wouldn't anticipate—and we can help prevent these issues from getting worse."
Jonathan Thyng, MD, medical director at D-H Nashua and clinical assistant professor at Geisel, says, "The screening has been the biggest eye-opener. By asking people about depression, anxiety, and substance use, you get answers you wouldn't anticipate—and we can help prevent these issues from getting worse."
State funding and the commitment of D-H leadership have facilitated the expansion of Integrated Behavioral Health. But, notes Duncan, "Reimbursement models are in the earliest stages of development, so sustaining the program requires the institution to invest at a loss to do the right thing clinically."
Even so, collaborative care has demonstrated success in improving outcomes and lowering health care costs, and D-H is working on adapting its adult model for pediatrics. "People are used to coming to their primary care doctors with all sorts of issues," says Thyng. "With demand for mental health care far exceeding the supply of specialists who can provide it, this model helps patients receive expert care in the medical home they know and trust."