See all Stories
Community Giving Swells in the Time of COVID-19
In early March, as Dartmouth-Hitchcock (D-H) was gearing up to care for an anticipated influx of COVID-19 patients, its Population Health team was already seeing increased demands on the safety net organizations it partners with throughout the region, due to the economic fallout of the pandemic.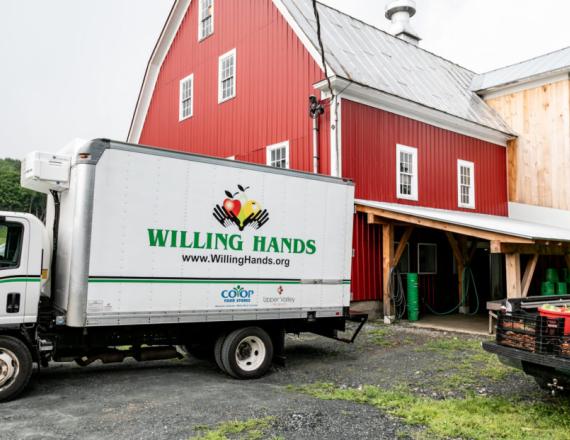 Looking for a way to respond, Dartmouth-Hitchcock Health's (D-HH) Population Health and philanthropy teams worked together and launched the COVID-19 Community Relief Fund. Reaction to the fundraising initiative was immediate and generous. 100 percent of the funds raised are being distributed to a number of coalitions of nonprofit social service organizations, including Upper Valley Strong, the Sullivan County COVID-19 Community Coalition, the Windsor Area COVID-19 Response Team, and a newly formed coalition in the Manchester, N.H., area.
Greg Norman, director of Dartmouth-Hitchcock Community Health, explains, "We chose to invest the Community Relief Funds through these multi-agency groups, which include community services organizations, town and school leaders, community organizers, and representatives of health care, because in a crisis situation, these types of community leaders have great wisdom in knowing how to use limited resources and in identifying urgent and emerging needs at the local level as circumstances change."
The D-HH COVID-19 Community Relief Fund received more than $450,000 in donations in under two months. The Jack and Dorothy Byrne Foundation launched the Fund with a pledge to match the first $50,000 in gifts, and two other matching challenges followed—a $25,000 pledge from the Lebanon, N.H.-based business ImmuNext and a $10,000 pledge from an anonymous donor. D-HH contributed $80,000, as well as the support of its philanthropy team and eight full-time Community Health employees to assist the local agencies.
Investing in People's Health and Well-Being
Within a month of establishing the Fund, D-HH had made initial disbursements from it and people in need were benefiting. Food insecurity is one of the biggest challenges in the region and all four coalitions have distributed donations to soup kitchens, meal delivery services, or food shelves. "People who've never used food shelves before are utilizing them now," says Norman. "The Bugbee Senior Center in White River Junction reports delivering 300 more meals in March 2020 than it had in February. These meals meet basic food needs for seniors and help them practice social distancing."
People who've never used food shelves before are utilizing them now."
Sullivan County's COVID-19 Community Coalition provided funds to mental health and substance use treatment organizations to help them purchase telehealth technologies, enabling persons with mental health and substance use disorders to continue treatment during a time when in-person services aren't viable. It also supplied a Claremont homeless shelter with products to clean and disinfect towels and bedding during this time of heightened need. The Windsor Area COVID-19 Response Team is offering gift cards and other tangible supports to community members in need of gas, food, diapers, heating oil, and other necessities.
Sally Kraft, MD, MPH, vice president of Dartmouth-Hitchcock Population Health, says, "Investing in the health and well-being of the people in our communities is the bread and butter of what our Population Health team does all the time. We help address the non-clinical issues that hinder a person's ability to maintain health. For our communities and our populations to recover from the pandemic and regain health, we must provide excellent health care while simultaneously meeting the needs of those who are hungry, homeless, or isolated and scared."