See all Stories
Dartmouth-Hitchcock Health Invests in the Communities It Serves
Drivers delivering meals to older adults in the first months of the pandemic made a poignant discovery: People were splitting their meals with their dogs. Isolated seniors who'd run out of pet food did what they had to do to care for loyal companions in the loneliest of times.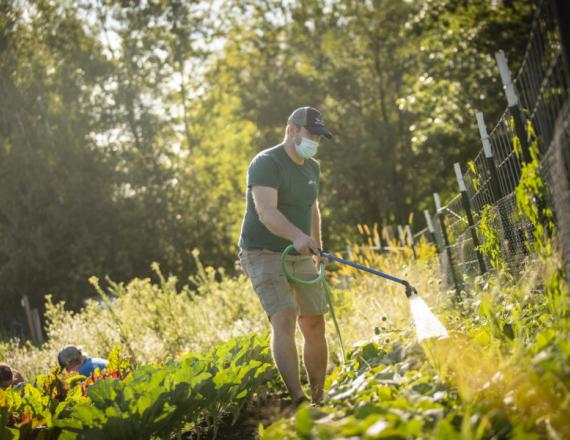 The Grafton County Senior Citizens Council was able to respond by stocking up on kibble. It was one of many organizations benefiting from Dartmouth-Hitchcock Health's (D-HH) COVID-19 Community Relief Fund. Established in March 2020 to confront the economic fallout of the pandemic, the fund supported a number of social service agencies in meeting urgent and emerging needs at the local level.
Investing in the communities it serves isn't new to D-HH; it's at the heart of the organization's mission. But the impact of such investments was never more apparent than in the past year, when D-HH's support of the Community Relief Fund, the New Hampshire Community Loan Fund, and Families in Transition helped people remain fed, sheltered, and healthy during the pandemic.
Very Real People in Very Real Trouble
The COVID-19 Community Relief Fund began with an $80,000 initial investment from D-HH and has grown in the past year to more than $600,000 thanks to the generosity of donors. No less valuable than the dollars, D-HH also committed staff time to three coalitions of nonprofits—Upper Valley Strong, Sullivan County Strong, and the Windsor Community Coalition. These groups, along with some smaller organizations in Southern New Hampshire, received 100 percent of the money raised, and they distributed funds to social service agencies such as soup kitchens, homeless shelters, community mental health providers, and senior centers, and to individuals in need.
"COVID-related support through Upper Valley Strong and Sullivan County Strong helped us to serve our clients during a time of surging mental health crises," says Dave Celone, director of development and community relations at West Central Behavioral Health. "When winter came and it was still unsafe to see patients indoors, we used some of our funds to buy headlamps for outdoor, after-school therapy sessions with children."
Jill Lord, director of community health at Mt. Ascutney Hospital and Health Center—a key member of the Windsor Community Coalition—says, "We've helped people with things like food, rent payments, utilities, gas, car repair. I can't express enough gratitude for the opportunity to help very real people in very real trouble because of the impact of COVID-19."
Stability in Uncertain Times
Having a stable, secure place to call home means protection, less stress, and better quality of life. Promoting and protecting access to safe, affordable housing aligns with D-HH's goal to support healthy lives and communities for all.
In December 2020, D-HH announced a $3 million investment in the New Hampshire Community Loan Fund. The Community Loan Fund provides financing and technical assistance to help homeowners in manufactured-home parks purchase and run their parks as resident-owned communities; offers mortgage loans to low-wealth homebuyers; and lends to developers of affordable multi-family rentals.
"Affordable housing is already hard to come by in New Hampshire, and with many out of work or seeing reduced incomes as a result of the COVID-19 pandemic, there's never been a more critical time to do our part to make sure safe, affordable housing is not a luxury," said Michael Waters, D-HH Treasurer.
As the COVID-19 pandemic continued into 2021, providers in the homelessness services sector experienced an increase in costs to meet safety guidelines and ensure the continuation of essential emergency services. In January, D-HH gave a grant of $20,000 to Families in Transition, a Manchester, N.H.-based nonprofit that works with people experiencing homelessness. The grant supported a temporary expansion of the organization's adult emergency shelter program and helped the effort to ensure people's safety and well-being through the winter months.
"One of our core values at D-HH is to work with communities we serve to address critical and unmet health needs," said Greg Norman, director of Community Health for Dartmouth-Hitchcock. "More than ever during COVID-19 members of our community are struggling to meet their basic needs for shelter, food, and social contact. By providing targeted investment of D-HH funds and expertise, we can help community-based organizations like Families in Transition continue to meet the safety net needs of our patients and other members of the communities we serve."
---
In their own words…
"When the pandemic hit, one of the biggest concerns was hunger and food insecurity. In the last twelve months, we've doubled the amount of food we deliver from 500,000 to 1.2 million pounds. That was only possible through support of Upper Valley Strong and other supporters." —Gabe Zoerheide, Executive Director, Willing Hands (a food recovery and distribution organization)
"Support during the pandemic gave us the financial security to serve an increasing number of people. Between Meals on Wheels and our new grab-and-go takeout program, we could ensure older adults were getting the nutrition they need." —Kathleen Vasconcelos, Executive Director, Grafton County Senior Citizens Council
"To prevent the spread of COVID-19, we had to decompress our largest adult community shelter, then open a new dorm and staff it. We were able to be creative and consistent in response to the crisis because of support from Dartmouth-Hitchcock." —Stephanie Savard, Chief External Relations Officer, Families in Transition