See all Stories
Dartmouth-Hitchcock's New Patient Pavilion: A Strong Start
The steel that forms a building is strong; the people that bring life to a building make it even stronger. On April 19, Dartmouth-Hitchcock Medical Center (DHMC) celebrated construction and community when a beam that will be part of the new Patient Pavilion was delivered to the main mall and patients, volunteers, employees, and donors were invited to sign it.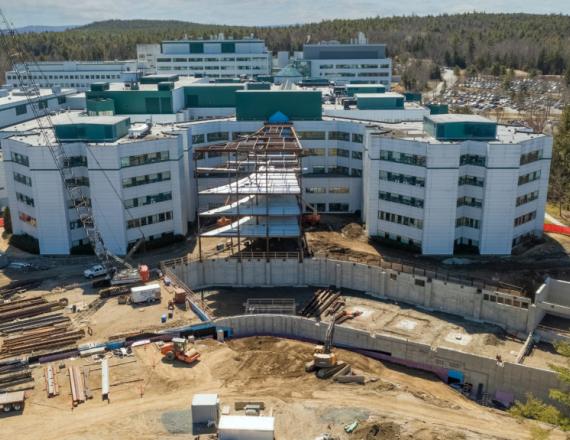 The Patient Pavilion, set to open in 2023, will include 64 patient rooms to help address the increasing needs of patients from around the region who require the high-level tertiary and quaternary care provided at DHMC, the state's only Trauma I Center. Nearly 300 critically ill patients are turned away every month due to lack of bed capacity at the hospital. The Pavilion will allow DHMC to provide high-quality care, close to home.
"We are the health care safety net for 1.9 million residents in Northern New England. When our neighbors need us, we must be ready. With this project, we will strengthen the safety net. We will expand our ability to meet the needs of our region's most seriously ill patients," says Joanne M. Conroy, MD, CEO and president of Dartmouth-Hitchcock (D-H) and Dartmouth-Hitchcock Health (D-HH).
Bolstered by Philanthropy
Conroy and Ed Stansfield, Chair of the D-H Board of Trustees, were among the first to sign the beam. They were joined by D-H Trustees Roberta Hines MED'78 and Charlie Plimpton. Plimpton and his wife, Barbara Nyholm, made the inaugural commitment to support construction of the Pavilion, and Hines and her husband, Jerry Liebrand, have given generously as well. Donors Bill and Mary Ann Becker and Ela Cluthe weren't able to attend the signing, but they sent their signatures on cards that were taped to the beam.
Also sending in a card with their signatures were Bill and Sue Conaty, whose $5.25 million gift commitment in support of the Pavilion is the second-largest donation in Dartmouth-Hitchcock history. They made their gift in honor of all D-HH employees.
"It felt natural for us to say this is in honor of the hardworking folks of this organization," says Bill, who served on the D-H Board of Trustees from 2011 until 2020. "I've never met a more dedicated and appreciative group of people."
Please join our mission to provide the best, most advanced care, close to home, for all who need it, by making a gift in support of the Patient Pavilion today. For more information, contact Elizabeth Dollhopf-Brown, Associate Vice President, Office of Development, at 603-646-5131 or Elizabeth.Brown@hitchcock.org.