See all Stories
Dartmouth Cancer Center's Approach to Research Inspires Hope
Early in 2004, James Savarese D'88 and his family were flourishing. He was growing a fledgling business into a multimillion dollar company and his wife, Eileen Savarese, had given birth to their first child, Charlie.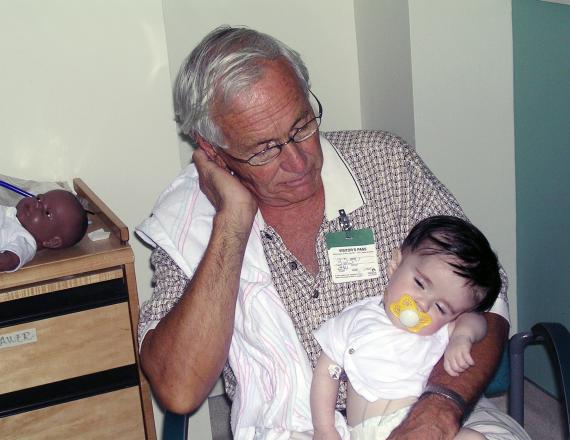 Then came the devastating news: Charlie was diagnosed with an aggressive type of brain tumor. He passed away a few months shy of his first birthday.
We went into a very dark place for several years," James says. "If you wanted to engage with us for dinner, you were going to be talking about our son."
In time, James and Eileen became parents again, to daughters Lucy and Ruby, and James went on to serve as chief operations officer for another startup—the online retailer Wayfair—and help grow it into a Fortune 500 company. Throughout the years, they supported cancer research at the Chicago hospital that had treated Charlie. Then, in 2021, while exploring opportunities to give back to Dartmouth College, they learned about the Dartmouth Innovations Accelerator for Cancer.
Supporting Dartmouth and cancer research
A philanthropy-funded initiative, the Accelerator was launched in 2020 by Dartmouth Cancer Center and the Magnuson Center for Entrepreneurship and is a fundraising priority within Dartmouth's Call to Lead campaign. The program provides researchers from across Dartmouth with the entrepreneurial guidance needed to expedite innovations from the lab to the marketplace for the benefit of cancer patients. The most promising ideas win awards that fund critical next steps in the development of high-potential cancer interventions.
The Accelerator builds on Dartmouth's impressive success in launching biotech startups—the Cancer Center ranks sixth nationally for entrepreneurship among all 52 National Cancer Institute-designated Comprehensive Cancer Centers—and it's a key priority of the new Byrne Family Cancer Research Institute at Dartmouth Cancer Center.
"We knew that there was a cancer center here serving patients in the region, but we didn't realize it was also involved in such groundbreaking research," James says. "The Accelerator felt like the right fit for our giving because it brings together my background in entrepreneurship, our commitment to supporting cancer research, and my warm feelings for Dartmouth, where I had an amazing college experience."
"When the researcher we were supporting in Chicago left the institution and we began to think about where else we might give, big city hospitals did come to mind first," Eileen adds. "Then we discovered that Dartmouth's smaller size is precisely what makes such great work possible here. Researchers in the Accelerator are unencumbered by big bureaucracy and they don't have to cut through red tape—they get down to business."
The intersection of science and business
One of those researchers is Arti Gaur, PhD, an assistant professor of neurology at the Geisel School of Medicine, who received the first Accelerator award of $300,000 last year. Gaur's lab is working on a new potential therapy for high-grade gliomas, a kind of brain tumor for which the median survival is only 14 months—the kind of brain tumor that took the life of Charlie Savarese. The award will help Gaur move her research to the next phase, where she can potentially attract the money that will be needed for clinical trials—the next step in making this treatment available to the patients who need it most.
People give to cancer research because they want solutions," Eileen says. "You have one conversation with Arti and you feel hopeful. She wants to crack the code and is doing everything she can to accomplish that. It felt right to us to get behind that."
After spending the last 20 years building businesses, James appreciates that the Accelerator is not only addressing the need to fund early-stage research but also teaching investigators like Arti Gaur how to pitch and sell their work. Students can benefit as well, with opportunities for Dartmouth College undergraduates and graduate students from Dartmouth's professional schools to learn about and participate in biomedical entrepreneurship.
Collaborations leading to breakthroughs
James views the Accelerator as a whole through the lens of his business experience. "Just like a startup, the Accelerator is building on its early successes with an energy that takes on a life of its own," he says. "I think it can grow into something huge, and I'd bet that if we allow it to prosper, it's going to make a big dent in the tens of thousands of lives that are devastated by cancer."
The promise of this impact is what inspired James and Eileen to make their first Accelerator gift of $300,000 last year, along with a pledge of continued support.
"The interconnectivity of the Dartmouth community makes possible the collaborations that lead to breakthroughs," says James. "The potential of the Accelerator to take cancer diagnoses off the table, to prolong life, or to make treatments more palliative is tremendous."
"The discoveries that come out of the Accelerator will have a ripple effect on all cancer research," says Eileen. "Its impact is going to be profound. It feels great to contribute to that."
Photo caption: Charlie Savarese and his grandfather Chuck Ripp, napping together after one of Charlie's chemotherapy treatments. Photo courtesy James and Eileen Savarese
---
To learn how you can support cancer research at Dartmouth, email Bethany.Solomon@Dartmouth.edu or call Bethany at 603-646-5134.