See all Stories
Geisel Scholarship Honors a Man and a Move
The lines of cars stretched on for blocks in stop-and-go, bumper-to-bumper traffic. Every afternoon, fumes fouled the air as engines idled, sometimes for 30 minutes, often for an hour. A situation that seemed bad in the 1970s was, by the 1980s, intolerable.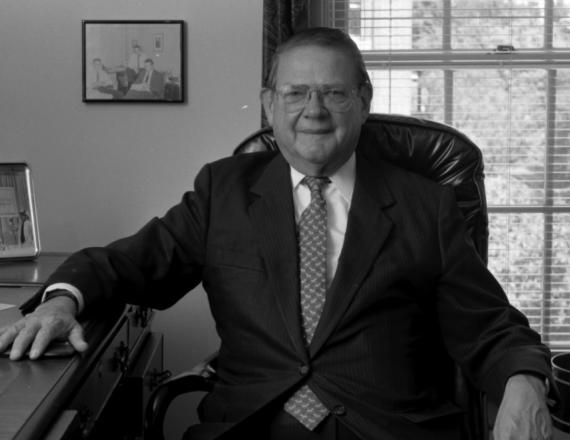 This wasn't rush hour on the streets of New York City; this was rush hour in downtown Hanover, N.H. And the congestion stemmed from the Mary Hitchcock Memorial Hospital and the Hitchcock Clinic, then located at the northern edge of the Dartmouth College campus.
Paul Paganucci D'53, TU'54 played a pivotal role in moving the healthcare facilities out of Hanover and into Lebanon, N.H., strengthening the academic medical enterprise by giving it much needed room to grow, and solving the traffic problem. Late last year, Marilyn Paganucci established the Paul D. and Marilyn M. Paganucci Geisel Scholarship Fund at the Geisel School of Medicine in memory of her husband. 
"Over his varied career Paul had many successes," says Marilyn. "Of all his lifetime accomplishments, he felt relocating the hospital was the one that had the most impact."
Now, the scholarship named in his memory will also have great impact. It advances progress toward Geisel's campaign goal of raising $20 million in new scholarship support for medical students, making a Dartmouth medical education possible for more students with financial need and reducing their debt burden.
Symptom: congestion
Paganucci had witnessed the explosion of Hanover traffic. After graduating from Dartmouth, he attended Harvard Law School and then began a career in finance in Manhattan. He returned to Hanover in 1972 with Marilyn and their two young children after accepting an offer to serve as associate dean of Dartmouth's Tuck School of Business. By 1977 Paganucci was the College's vice president of finance. It was a job that put him in a position to respond to the needs of the medical center and tackle the gridlock.
Interviewed in 1996, Paganucci explained, "It was clear that the bulk of the traffic volume was coming from the Hitchcock Hospital. If you figure a doctor had roughly six appointments a day and . . . project that on an annual basis by several hundred doctors, you have an astronomical volume of automobiles!"
The traffic wasn't the only issue. Hospital, clinic, and medical school leadership knew that the hospital needed major renovations and upgrades. Originally built in 1893, it had already expanded numerous times along Maynard Street, in every direction possible. There was no room left for Mary Hitchcock Memorial Hospital to grow. The multiple additions had made the facility so difficult to navigate that colored lines had been painted on the floors, akin to a subway map, to help patients find their way to common destinations within the hospital.
Diagnosis: rapid growth
Out of the blue, Paganucci received a call from his next door neighbor Jack Nelson in 1981 with an offer almost too good to be true: He wanted to sell 2,006 acres of land in Lebanon, N.H., to Dartmouth College at a very reasonable price. John Kemeny, Dartmouth's president at the time, encouraged Paganucci to pursue the deal. Kemeny's tenure as president was coming to an end, but Paganucci had a plan for the land.
He walked incoming president David McLaughlin through the hospital's parking lot. "It was then between 9:00 and 10:00 at night and, of course, it was wall-to-wall cars. The night shift was on and it was very hard to find a parking place anywhere near the hospital. I said, 'Dave, this is going to be one of your biggest problems, to try and get this relocated.'"
In October 1985, four years after the College bought the land, the Town of Hanover rejected an application from the Hitchcock Clinic for further expansion. The College offered to buy the existing Hitchcock properties in Hanover and gift the hospital 200 acres of the land in Lebanon. 
"Various committees had been studying these questions of the future of the medical center for years and years without making any really measurable progress," Paganucci said. "Then, all of a sudden, this mushrooming power of a fan came on and just blew everything ahead of it and it all got completed by the end of that year. . . . The result of this was that the Dartmouth-Hitchcock Medical Center obtained a more modern, efficient medical center to serve its patients with ample expansion room for its own future needs."
Treatment: space to thrive
Paganucci accepted a new job in late 1985 but he never lost his connection with the Dartmouth community, and he died in his Hanover home in 2001.
Marilyn was inspired to honor her husband's legacy in 2020, when COVID-19 struck. "At the start of the pandemic my heart went out to all who were struggling and I asked myself how I could help," says Marilyn. "What better way than to establish a scholarship fund to aid aspiring doctors at the Geisel School of Medicine?"
Also in 2020, Dartmouth-Hitchcock Medical Center began construction on a new Patient Pavilion that will add 64 private patient rooms and provide space for future expansion. The impact of this new facility on patients who need expert care close to home will be enormous. And it wouldn't have been possible without the foresight and resolution of Paul Paganucci.
---
Enjoy these three short videos: Move Day in 1991, a time lapse of DHMC's construction, and implosion of the old facilities in Hanover.
---
Paul Paganucci's quotations have been edited slightly for brevity. The complete interview can be found here.