See all Stories
Gifts and Gratitude Mark Two-Year Anniversary of the Jack Byrne Center
After 30 years of marriage, Janet Miller Haines could tell when her husband, Richard, was troubled or in pain. It showed in the furrow of his brow. She saw it a lot between his October 6, 2018, diagnosis of a bone infection, and his admission to the Jack Byrne Center for Palliative & Hospice Care six weeks later. But in the four days he spent at the Jack Byrne Center—sipping his favorite Apple Jack smoothie, enjoying the woodsy view out his window, and marking Thanksgiving with family by his side—his brow didn't furrow. "He was at peace," Haines says.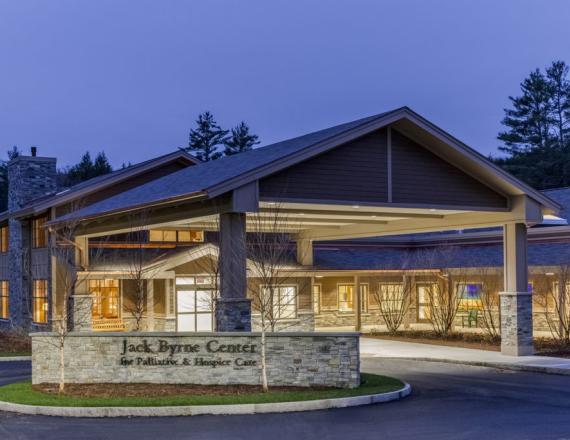 Construction of the Center, which opened almost two years ago, was made possible by the Jack and Dorothy Byrne Foundation and by the many contributors who joined in supporting the vision for a facility to care for those with life-limiting illness. Moved by the Center's commitment to patient- and family-centered care, generous donors have given over $1.2 million to the Center since it opened. Now, the Jack and Dorothy Byrne Foundation has made an additional $2 million gift to establish an operating endowment for the Center, helping to ensure that its special programs and services remain available to patients, families, and the community.
"This gift allows us to maintain the quality of our staffing, our community programs, and our personalized services," says Kathryn Kirkland, MD, section chief and director of the palliative medicine program at Dartmouth-Hitchcock (D-H) and the Dorothy and John J. Byrne, Jr., Distinguished Chair in Palliative Medicine at the Geisel School of Medicine. "We are so grateful."
Haines shares Kirkland's gratitude. "Care at the Center isn't just patient-focused, but touches everyone connected to the patient," she says. "That's a reflection of Dorothy Byrne's vision."
Dying with Dignity
The Haineses had planned to spend Thanksgiving with friends at home in New London. But by the Tuesday before the holiday, it had become clear that Richard was not going to get better and he was transferred from the intensive care unit at Dartmouth-Hitchcock Medical Center (DHMC) to the Jack Byrne Center. Designed to be warm, welcoming, and homelike, the Center offers several common spaces and amenities to guests and their families—including a kitchen and dining room.
"By Wednesday afternoon, almost the whole family was with us," Haines says. "Richard's daughter, two sons, two daughters-in-law, and four of our six grandchildren had arrived with a turkey and ingredients to make mashed potatoes, stewed tomatoes, creamed onions, and other side dishes. The kitchen was beautifully equipped so we didn't have to bring anything but the food."
Peggy, the Center's head chef, made sure the family had everything they needed, and when it seemed like the large turkey might take all night to cook, Peggy finished it for them in the Center's industrial oven. Dinner was served at 5:15pm. Family members took turns at Richard's bedside, bringing him a taste of the food and the comfort of a holiday at home.
Richard died the following morning. "Everyone who works at the Center treated us with sensitivity and inspired a sense of calm and reassurance. Creating the opportunity for people to experience death with dignity, without pain, and without anxiety, is an incredibly important thing for a medical facility to do," Haines says. "Thanks to the Jack Byrne Center, Richard had an extraordinary death."
Expanding Palliative Care
In its first two years, the Center has cared for over 700 patients and their families. Some patients are admitted at the request of community hospice providers while others come directly from regional hospitals. They are often critically ill, with advanced cancer, heart failure, chronic obstructive pulmonary disease (COPD), or organ failure. The majority of patients die at the Center, but 20% are there for symptom stabilization or respite stays and leave the facility after a few days. The average length of stay at the Center is three days.
While patients receive care to alleviate symptoms and manage pain, patients and their visitors can find comfort through offerings like massage, pet therapy, live harp music, or peaceful contemplation in the non-denominational chapel or the Center's garden. The Center also serves as a hub for research, education, and community engagement with programming that includes caregiver support, bereavement support, advance care planning, skills training for lay caregivers, therapeutic workshops with artists and writers, and participation in the national program Death Over Dinner—a community meal that encourages attendees to engage in conversations about death in a warm, supportive environment. "Part of our mission is to demystify end-of-life care and death," says Ruth Thomson, DO, MBA, medical director of the Center and an assistant professor of medicine at Geisel. "We bring people together around the topics of death and dying."
"Part of our mission is to demystify end-of-life care and death," says Ruth Thomson, DO, MBA, medical director of the Center and an assistant professor of medicine at Geisel. "We bring people together around the topics of death and dying."
In honor of her husband, Janet Haines has joined that mission. Clinicians from Dartmouth-Hitchcock and scholars from The Dartmouth Institute for Health Policy and Clinical Practice are working on a research project in partnership with patients and caregivers to design tools that will improve the experience of patients with serious illness, their families, and their caregivers—and Haines has volunteered to provide the perspective of someone in bereavement.
"I'm so grateful for the way Richard and our family were treated by the team at the Center, and I wanted to find a way to say thank you," says Haines, who has also started volunteering at D-H as a Patient and Family Advisor.
The desire to give back is strong among the people whose lives have been touched by the Center. Some, like Haines, volunteer; others have donated musical instruments and kitchen goods; and, since the Center opened, 615 gifts have been made in memory or honor of a loved one. "We are blessed to have the support of our friends and neighbors," says Kirkland. "Every contribution extends our capacity to enhance the care of people with serious illness throughout the D-H system and the region."