See all Stories
Help for Children in Distress
All around the world, children are in crisis. Soaring rates of depression, anxiety, and other mental health disorders are plaguing youth and their families. These kids suffer from treatable conditions, but cost of care, lack of access to providers, and a severe shortage of child and adolescent psychiatrists form insurmountable obstacles for many families seeking help.
Jonathan Guloyan knew the anguish of needing support and not being able to get it, and he was determined to make a difference in the lives of children in distress. When he died, the New Hampshire resident left $1.5 million that's being used to fund collaborative behavioral health at the Children's Hospital at Dartmouth-Hitchcock (CHaD)—a team-based approach to treatment that integrates mental health care with pediatric primary care, enabling more children to get the attention they need, when they need it.
 "Pediatricians are in a unique position to detect and respond to psychiatric conditions at their onset, but they don't have the time or the training to offer comprehensive mental health treatment," says CHaD Director Keith Loud, MD, chair of the Department of Pediatrics and associate professor of pediatrics at the Geisel School of Medicine. "This transformative gift supports pediatricians with the resources they need to immediately address the behavioral health issues they see in their patients."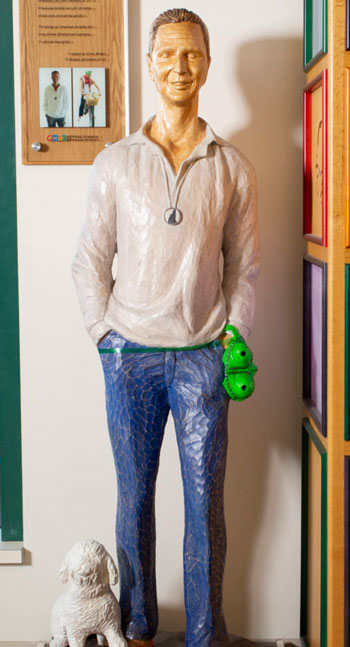 Mirroring Dartmouth-Hitchcock's (D-H) successful integration of behavioral health into adult primary care, collaborative behavioral health at CHaD increases patient access to mental health treatment through the pediatric practices families know and trust. A true team effort, this model of care utilizes behavioral health clinicians who can provide immediate assessments for patients who screen for psychological issues during their pediatric appointment; care managers who serve as liaisons between families and schools, community mental health centers, and private therapists; and child psychiatrists and psychologists who offer expertise through phone or electronic consults (eConsults), helping to triage patients most in need of specialized care and mentoring physicians in their ability to address mental health issues within their practice.
Julie Balaban, MD, section chief of child and adolescent psychiatry at D-H and an assistant professor of psychiatry and of pediatrics at Geisel, says, "It's not ethical to screen for behavioral problems if you can't offer solutions. Collaborative care encourages screening because it supports the follow through. And that means more children are getting the treatment they need, and they're getting it early enough to make a significant difference in their lives."
This extends beyond CHaD patients to children in need throughout New Hampshire and southern Vermont. Child and adolescent psychiatrists at D-H are exploring ways to offer eConsults and training to pediatric primary care practices across the region. In the meantime, as the COVID-19 pandemic exacerbates the youth mental health crisis, telemedicine has allowed CHaD patients to continue to receive treatment without disruption.
"Talking with patients is easily done by video," says Balaban. "With the pandemic, we transferred almost 100 percent of our patients to virtual appointments. At a time when the need's been greater than ever, we could still provide quick and consistent access to behavioral health care."
For those families who are visiting CHaD in Lebanon, they can't miss the whimsical statue of Jonathan Guloyan and his dog, Harley. It is an enduring reminder of the impact one person can have on the lives of thousands.