See all Stories
Increasing Our Capacity to Care: Dartmouth-Hitchcock Medical Center's New Patient Pavilion
Newborns in distress. Teenagers with appendicitis. Men and women with sudden-onset seizures, life-threatening injuries, brain bleeds. Again and again, Dartmouth-Hitchcock Medical Center (DHMC) is forced to send patients elsewhere for care, simply because there aren't enough beds. More than 200 critically ill and badly injured children and adults are turned away every month. Instead of receiving superb, sophisticated care close to home, near families and loved ones, these patients are sent to medical centers hours away, at great cost and inconvenience—and at added risk from the delay in receiving care.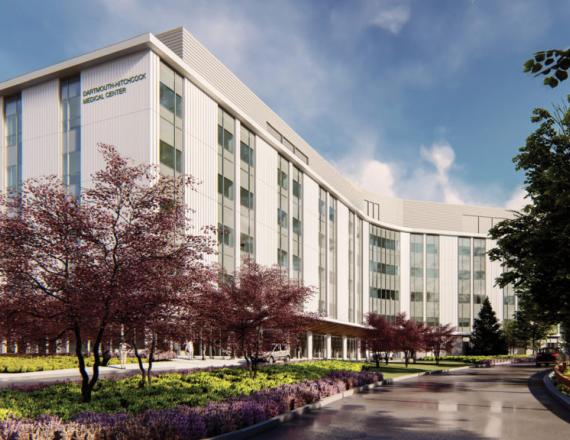 Dartmouth-Hitchcock (D-H) recently took a major step in addressing this problem. On July 22, 2020, a small group gathered to break ground for a new Patient Pavilion. This facility, scheduled to open by 2023, not only will provide 64 additional single-occupancy rooms to meet current needs but also include unfinished space to allow for future expansion. 
Dartmouth-Hitchcock Health (D-HH) and D-H Board Chair Ed Stansfield remarked at the ceremony, "When our community needs us, we must be ready to take action, and this new Pavilion is the evidence of that." 
Also at the groundbreaking, Charlie Plimpton, the Chair of the Board's Finance Committee, outlined the project's financial viability, and he highlighted the role that donors will play. "In order for D-H to sustain its uniquely essential mission as an academic health system, an increase in philanthropic support becomes essential." Plimpton and his wife, Barbara Nyholm, made the inaugural commitment to support the construction.
D-H and D-HH CEO and President Joanne M. Conroy, MD, reiterated that the team at D-H is committed to providing world-class health care in our region. "We know that the demand continues to grow in the communities we serve, and thus the demonstrated need for the Pavilion. It really is a testament to our community that, in the midst of all the uncertainty facing the country, we are still going ahead with this project."