See all Stories
No Shame: Combating the Stigma of Mental Illness
Whenever John Broderick tells his painful family story of mental illness at high school assemblies, the students line up afterward to talk to him about their own struggles. Some wait for more than an hour. "I'm the grandfather they've never met," says Broderick. "They come up to me with wet eyes and cracking voices."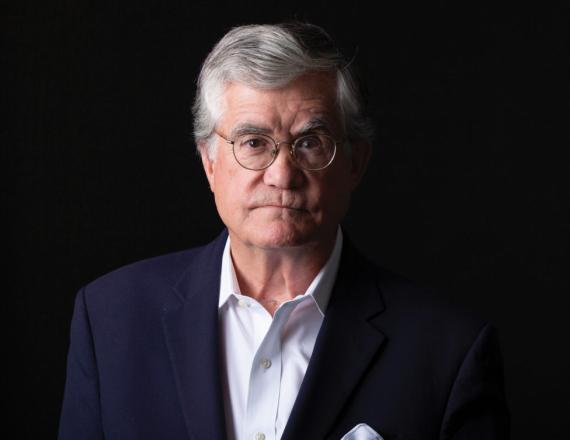 The former chief justice of the New Hampshire Supreme Court has found a calling: "I'm on a mission to change the conversation about mental illness."
Broderick does this work as senior director of external affairs for Dartmouth-Hitchcock Health (D-HH), serving as the public face of its R.E.A.C.T. Mental Health Awareness Campaign. The program is a collaboration with the Children's Hospital at Dartmouth-Hitchcock (CHaD), the New Hampshire Department of Education, and the Vermont Agency of Education. 
In just three years Broderick has spoken to 93,000 people—most of them teenagers. He begins each presentation telling how he missed the signs of mental illness in his own son. "I was ignorant, and I did harm without intending to," he says. "Now I'm trying to pay it forward. … If Dartmouth-Hitchcock wasn't on board, I couldn't be doing what I am doing."
Image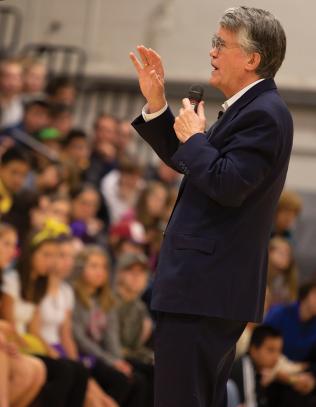 At New Hampshire's Lebanon High School, Broderick talks to students about mental health and stigma. Photo by Mark Washburn
An Illness, Not a Weakness
When his son Christian was 13, he tells the students, Christian became increasingly withdrawn, spending hours drawing in his room. Broderick and his wife, Patti, simply thought he was artistic. They knew that Christian began drinking during college, and by the time he had finished graduate school, they realized he was an alcoholic. Four stints at rehab failed. The possibility that he was ill never crossed their minds. "All we saw was alcohol," Broderick says. Eventually, they were persuaded to adopt a "tough love" approach, now largely discredited, and kicked their son out of the house. Only after Christian went to prison for assaulting his father did the couple learn from prison psy-chologists that he had "off the charts" depression and anxiety. He'd been drinking to cope. In prison, he finally got treatment. "You wouldn't tell someone with diabetes to 'snap out of it,' " Broderick tells the students. "Mental illness is a health problem, not a weakness."
Broderick has given these talks at 248 schools (and counting) in New Hampshire, Vermont, Maine, and northeastern Massachusetts. "You have 750 people in a gym and you could have heard a pin drop for the entire 45 minute talk," says Acting Principal Brian Emery of Broderick's visit to John Stark Regional High School in Weare, New Hampshire.
When the talk ends, the students usually give him a standing ovation. "They're not applauding me," says Broderick. "They're applauding because they agree."
They're not applauding me. They're applauding because they agree."
Broderick can recount dozens of stories that students have told him. A seventh-grader began to cry as she described losing a friend to suicide when the girls were 10. Had she failed her friend? No, he told her; her friend had an illness. At another school, a varsity football player asked for a hug, then told Broderick that he couldn't bring himself to tell his parents how depressed he felt. Broderick asked, "What if you hurt your knee and couldn't play in the game on Saturday? Would you tell them?" 
Nationally, half of the people who will suffer from lifelong mental illness develop it by age 14. Mental illness affects one in five adults in the United States in a given year, and substantially interferes in the daily lives of one in 25 adults. The rates are higher among veterans, people in prison, and first responders. Teachers and guidance counselors have told Broderick that mental illness is common in their schools, public and private. Sometimes, he says, a counselor will only discover someone is suffering by noticing the student's distress while listening to Broderick's talk.
Image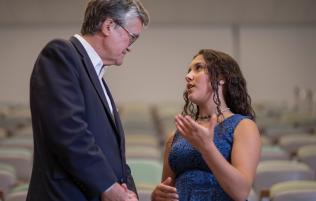 Lebanon High School junior Emily Galeva speaks with Broderick before serving on the Youth Voices: Knowledge–Empowerment–Understanding panel at Dartmouth-Hitchcock Medical Center in September. Galeva was a youth facilitator at Dartmouth-Hitchcock Health's Youth Summit in Concord, New Hampshire, in April. Photo by Kata Sasvari
Spreading Awareness
Along with visiting high schools, Broderick has spoken to adults ranging from land-use planners to TSA employees. He always mentions the five signs of mental illness developed by psychologist Barbara Van Dahlen: personality changes, agitation, withdrawal, poor self-care, and hopelessness. He also hands out cards created by the R.E.A.C.T. Mental Health Awareness Campaign that list steps for helping a person affected by mental illness. Developed by D-HH, the cards advise readers to: Recognize signs of emotional suffering; Express concern and offer support; Act now and talk to someone you trust; Care enough to follow through and follow up; and Text signs—that is, use numbers provided to connect to a crisis center. The campaign has distributed 400,000 of these cards.
Broderick wanted to extend the conversations that began in the schools he visited, and in April 2019 R.E.A.C.T. sponsored a summit for students and an advisor from every high school in New Hampshire. The 425 students attending chose nine topics to explore with the help of experts from D-HH. After student-led meetings on day one, the students made presentations to guidance counselors, principals, and school psychologists. "They talked, and we were listening," says Karen Borgstrom, director of external affairs at D-HH. 
Last spring, after Broderick heard about an art exhibit called "The 99 Faces Project: Portraits Without Labels," he brought it to Dartmouth-  Hitchcock Medical Center. The work of Boston- based photographer Lynda Michaud Cutrell, it comprises 99 photographs: some of them of people suffering from mental illness, others of their loved ones, all of them anonymous. Cutrell added a portrait of John and Patti Broderick with Christian, who is doing well.  
Broderick notes that shame about mental illness persists at the same time that Americans have come to accept previously stigmatized groups. Still, he has hope that the young generation will resist the taboo.
"I love this generation," he says. "They're the least judgmental generation in the history of this country." He says he's become less judgmental himself. "After seeing my own mistakes and understanding my own family's suffering, I realize this could happen to anyone. The world is more complex than I imagined it to be."
---
Watch John Broderick tell his story