See all Stories
The Right Care in the Right Place
First she clapped her hands. Then she tapped her head. Recognizing herself on the telemedicine screen, 7-year-old Megan [name has been changed to protect patient's privacy] jiggled in her wheelchair with delight. The nurse and nurse assistant with Megan shared in her joy—as did Margaret "Lou" Guill, MD, a Children's Hospital at Dartmouth-Hitchcock (CHaD) pulmonologist, who watched from 66 miles away.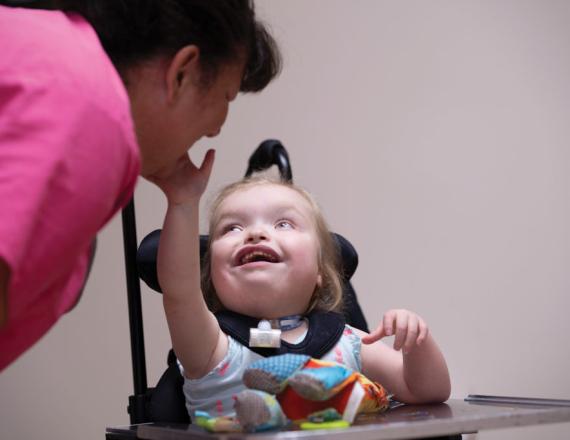 Megan lives at Cedarcrest Center for Children with Disabilities in Keene, New Hampshire, a specialized pediatric medical facility and school providing comprehensive services to children from New Hampshire, Vermont, and Maine with complex medical and developmental needs. Kids at Cedarcrest range in age from infant to 21, and they may have pulmonary disorders, neurological disorders, cerebral palsy, traumatic brain injury, and other related conditions. An average of 22 children receive long-term care there with others coming for shorter stays and still others attending the Cedarcrest school as day students. Unique to the region, Cedarcrest is New Hampshire's only pediatric rehabilitation and long-term care facility.
As New Hampshire's only children's hospital, CHaD has enjoyed a long partnership with Cedarcrest. Its children often receive treatment from Dartmouth-Hitchcock (D-H) specialists, at D-H locations throughout the state and at Cedarcrest. And, since 2017, specialists like Guill have made routine care for kids at Cedarcrest more efficient, more comfortable, and more accessible—through telemedicine. Telemedicine allows health care providers to evaluate patients from a distance using secure telecommunications technology.
"Almost all of New Hampshire is rural, and to have a facility like Cedarcrest available in the state at all is truly special," says Guill, section chief of pediatric pulmonology at D-H and professor at the Geisel School of Medicine. "It's attendant upon us to support them in order to provide this outstanding level of care to children with special needs."
Finding a Better Way
Transporting children like Megan to Dartmouth- Hitchcock Medical Center (DHMC) in Lebanon isn't easy. Supplies and medications must be packed for the trip. Wheelchairs, oxygen, and, in some cases, ventilators have to be loaded and secured inside the vehicle. Every child is accompanied by two staff members. Preparation, round-trip travel, and the appointment itself make each office visit at least a half-day event. The experience is emotionally upsetting for many of the children, and less beneficial than being evaluated in their Cedarcrest home environment.
"We needed to find a better way. Telemedicine is a great option," says Cathy Gray, president and CEO of Cedarcrest.
Since 2012, Dartmouth-Hitchcock Connected Care and its Center for Telehealth has been addressing the challenge of delivering specialty care to the region independent of patient location. Working with rural hospitals, clinics, and community health centers, the Connected Care team identifies health care gaps that telemedicine can fill and brings additional resources to patients and providers. Connecting expertise to distant sites improves patient outcomes, lowers health care costs, and keeps patients where they want to be—close to home.
It's attendant upon us to provide this outstanding level of care to children with special needs."
Dartmouth medical school alumnus Richard P. Morse, MD, a pediatric neurologist at D-H and an associate professor at Geisel, introduced telemedicine to Cedarcrest in 2016 through a grant from New Hampshire Family Voices, an organization that advocates for children with special needs. The pilot went so well that everyone wanted to see telemedicine at Cedarcrest expand. To make that happen, Gray collaborated with D-H Connected Care.
"We were the matchmaker, bringing Cedarcrest and CHaD specialists together in this new way," explains Vanessa Brown, the Connected Care TeleSpecialty practice manager who worked closely with the Cedarcrest team. "We provided the infrastructure and training, leased them the telemedicine cart, and created the best practices and workflows. At the same time, we expanded our pediatric telespecialty services to rural hospitals and clinics throughout New Hampshire. Now, for example, young patients in the North Country, over two hours away from DHMC, can go to Coos County Family Health Services for a telemedicine appointment with a CHaD specialist."
D-H has broadened its telehealth services for adults and children as rural regions continue to be hardest hit by health care staffing shortages. At Cedarcrest, routine telemedicine neurology appointments began in April 2017, followed by pulmonology, urology, and nephrology later that year. Gastroenterology was added in January 2018 and, in January 2019, endocrinology.
"Our pediatric specialists are thoroughly invested in doing whatever they can to make delivery of care to their patients easier," says Brown. "The success of this program has been very gratifying for everyone."
Improving Lives in Rural New England
Telemedicine clinics are held quarterly at Cedarcrest. The CHaD specialist at DHMC sits at a computer workstation specially equipped with a two-way camera and secure videoconferencing software. At Cedarcrest, the patient, nurse assistant, clinical nurse manager Sheila Carrier, and other caregivers as needed gather in front of a mobile cart that includes a monitor, camera, and computer workstation. The CHaD specialist has all the child's records, and Carrier gives updates on changes to health status or medical needs. 
"The regularity, that children will be seen every quarter, no matter what, is really reassuring," says Kathleen Fisher, MD, a Dartmouth medical school alumna, medical director at Cedarcrest, medical director of CHaD's Complex Care Program, and clinical assistant professor at Geisel. "Everyone here knows the kids well and now the D-H providers know them well too. That makes a huge difference in overall care."
From a specially equipped workstation at DHMC, pediatric pulmonologist and Geisel professor Margaret "Lou" Guill, MD, talks with Cedarcrest clinical nurse manager Sheila Currier (on screen) during a telemedicine clinic. Photo by Mark Washburn
The accessibility of specialty care through D-H Connected Care is just one of the ways telemedicine has improved the lives of rural Northern New Englanders. Providers across the region note that since partnering with D-H, patient health concerns can be addressed and treated more quickly, fewer patients require transfer to DHMC where demand for inpatient beds often exceeds capacity, and patients appreciate that they can see specialists without the burden of costly and inconvenient travel. In addition, the support that caregivers at clinical sites receive from D-H has reduced burnout and improved retention.
And for Megan and other children at Cedarcrest, telemedicine has made a dramatic impact on their quality of life. Instead of uncomfortable trips to the doctor they can go on more fun-filled field trips with their friends; instead of restless hours on the road they enjoy fruitful hours in school. Telemedicine allows the children at Cedarcrest to spend less time being patients and more time being kids.
"Our pediatric specialists are thoroughly invested in doing whatever they can to make delivery of care to their patients easier. The success of this program has been very gratifying for everyone."