See all Stories
Saving Lives, Serving Science: Clinical Research in Our Rural Community
Robert Trembley, MD, was the first patient enrolled in DHMC's remdesivir trials.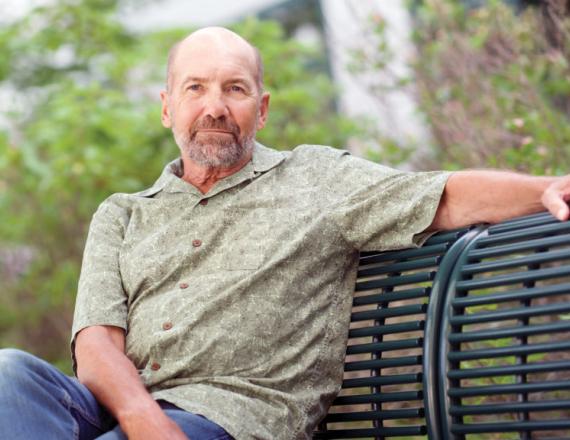 I. March 2020
Robert Trembley, MD, is no stranger to illness. As a primary care physician in Vermont's Northeast Kingdom for over 30 years, he treated countless patients in a rural health center, at North Country Hospital, and in local nursing homes. And as a person with cancer, he's undergone treatment for both Hodgkin's disease and acute myeloid leukemia (AML).
"I survived potent chemotherapy, a bone marrow transplant, and ongoing challenges of graft versus host disease," says Trembley. "All of which put me at high-risk for COVID-19."
When SARS-CoV-2, the virus that causes COVID-19, began spreading in the United States in early March, Trembley and his wife, Carol, were in Florida. They headed back north by car, staying twice along the way with friends and, once, at a hotel. They used hand sanitizer, cleaned surfaces, and avoided crowds, but this was in the days before known asymptomatic spread and mask recommendations.
Soon after arriving home in Vermont, both Trembleys started to develop symptoms. While his wife felt better after a couple of days, Trembley couldn't shake a low-grade temperature and an overwhelming sense of weakness. He wasn't experiencing any respiratory symptoms, but he was suspicious.
With coordination from John Hill Jr., MD, one of Trembley's hematologists at Dartmouth-Hitchcock Medical Center (DHMC), Trembley was admitted to North Country Hospital. He needed IV fluids and oxygen. A chest X-ray showed inflammation in his lungs. The next day, his COVID-19 swab came back positive.
"Dr. Hill arranged for me to be transferred to DHMC right away," Trembley says, "because that very day was the start of the remdesivir trial."
II. Remdesivir
Remdesivir, an antiviral medication, is now known to be one of the few drugs that may shorten recovery time for a patient with COVID-19. But in March 2020, open-label (non-placebo-controlled) clinical trials of remdesivir as a COVID-19 treatment were just beginning. DHMC was one of the first 20 U.S. sites to participate in the worldwide trial and the only site participating in New Hampshire or Vermont. 
"COVID-related research displays our agility and ability to activate studies," says Leigh Burgess, vice president of Dartmouth-Hitchcock's (D-H) Office of Research Operations.  "It also demonstrates the Dartmouth-Hitchcock mission of advancing health by providing each person the best care, in the right place, at the right time, every time."
Jami Wilson, director of the Clinical Research Unit and director of research nursing at DHMC.
In what can typically take two to three months, a team of experts in research operations, including Jami Wilson, director of the Clinical Research Unit and director of research nursing at DHMC, and principal investigator Richard Zuckerman, MD, MPH, opened two therapeutic studies of remdesivir in a remarkable eight days. These Phase III trials were designed to gather information about safety and efficacy by studying different populations and different treatment durations, as well as using the drug in combination with other supportive care.
"With any novel virus there is no standard of care," says Wilson. "This was an international pandemic and everyone worked together to get the trials up and running because we didn't have two months to figure it out."
Wilson explains that in any clinical trial, a research nurse is the patient's primary point of contact. They make sure trial participants understand both what they're agreeing to and that they are free to bow out at any time. Patients and their research nurse establish a deep, trusting relationship, with a lot of one-on-one interaction throughout the course of a trial. But for COVID-19 clinical trials the research nurses had to do most of their work from outside patients' rooms because of the contagiousness of the disease and the need to minimize the number of people coming into contact with these patients.
Robert Trembley was the first patient enrolled in DHMC's remdesivir trials. He had come to DHMC specifically to take part in the research and was ready to consent upon arrival. He recalls being in his bed in the COVID Unit with signed consent form in hand, and his research nurse, by phone, asking him to bring the form to the window so she could take a photo of it. But he was too weak to get out of bed.
He doesn't remember doing this, but it was around that time that he'd texted his wife, "On six liters of oxygen. Not good." Shortly after that, Trembley was put on a ventilator.
III. Lenzilumab
"This outbreak has reminded us why it's so important for our academic medical center to be involved in clinical trials and groundbreaking research," says Richard Zuckerman, director of D-H's Transplant and Immunocompromised Host Program, program director for the Infectious Disease Fellowship, and associate professor of medicine at the Geisel School of Medicine. "As a clinician, to quickly get an agent that may have efficacy is so important. Even if we don't have a huge volume of patients with COVID-19, it shows the community that we are poised to offer cutting-edge medicine and we care to bring it to the medical center in a safe way."
In May, Zuckerman began serving as co-principal investigator on another drug trial with Lionel Lewis, MD, medical director of the Dartmouth Clinical Trials Office, co-director of Dartmouth's and Dartmouth-Hitchcock's Norris Cotton Cancer Center (NCCC) Early Phase Clinical Trials Oncology Group, and professor of medicine at Geisel. The drug, lenzilumab (or "lenz"), is different from remdesivir in that it's not an antiviral medication but a monoclonal antibody. Monoclonal antibodies are laboratory-made versions of proteins naturally produced by the immune system in response to invading viruses or other pathogens. In some patients with COVID-19, signaling proteins called cytokines that activate immunity go into overdrive, and the immune system goes haywire. The massive inflammation that results damages lungs and other organs. Lenz has already been studied for its ability to prevent "cytokine storm" in organ transplant patients and in patients with refractory leukemia and lymphoma. The hope is that it can do the same to protect coronavirus patients from the cytokine storm that often leads to the need for mechanical ventilation.
"Dartmouth connectivity was key to bringing the lenz trial here," says Lewis. Of the 17 sites participating in the randomized, placebo-controlled Phase III study, DHMC was one of the first four medical centers to initiate the trial—once again in just eight days. An alumnus of Dartmouth's medical school, Dale Chappell MED'99, MBA, is chief scientific officer for the drug's developer, Humanigen, and Michael Zubkoff, PhD, an associate dean at Geisel, faculty director of the Center for Health Care at the Tuck School of Business, and director of the MD-MBA Program at Dartmouth, put Chappell in touch with Lewis.
This study will comprise 300 adult patients at sites including DHMC, the Mayo Clinic, and hospitals at the University of Southern California and in Brazil. Participating patients sick enough to need oxygen will get either lenz or a placebo. If the drug works, Humanigen will ask the Food and Drug Administration (FDA) to authorize its emergency use. Results are expected in November 2020.
"It was so important to our hospitalized patients at DHMC to have us involved in this research," Zuckerman says. "Now we had options."
IV. Antibodies and Coronavirus Immunity
After five days on a ventilator, Robert Trembley was extubated.
"I think the very early intervention was instrumental in turning things around for me," Trembley says. "If I hadn't been close enough to an academic medical center with the option of the clinical trial, I would likely have remained at my community hospital and been treated with hydroxychloroquine, put on a ventilator, and that's it. The timeline of getting to DHMC and getting on remdesivir created a window of opportunity for me that made a difference in my survival."
While Trembley was recovering, Zbigniew "Ziggy" Szczepiorkowski, MD, PhD, D-H's section chief of Laboratory Medicine, director of Transfusion Medicine Service and of the Blood Donor Program, and professor of pathology and laboratory medicine at Geisel, had started evaluating the use of blood plasma rich in antibodies as a COVID-19 treatment. Supported by federal government agencies including the FDA, and with the Mayo Clinic serving as the Institutional Review Board, the DHMC program was making plasma collection, processing, and access to treatment easier for patients throughout Northern New England. 
"Treatments with convalescent plasma, or plasma from patients who have recovered from a disease, date back to the Spanish Flu of 1918," says Szczepiorkowski. "The belief is that plasma makes a difference, but we're still waiting for results of randomized, controlled trials."
Because plasma is known to be safe and anecdotal evidence suggests it can help patients, in the spring the FDA authorized its emergency use as an Investigational New Drug, or IND. (The FDA further expanded the emergency use of convalescent plasma in August 2020.) The designation allowed DHMC to provide plasma to anyone who met the criteria for it—hospitalized in an Intensive Care Unit and about to be intubated—and the outcomes will contribute to the understanding of its efficacy.
"We felt that if we believe this might work as a COVID-19 treatment, we have to offer it," Szczepiorkowski says. "There are other sites conducting randomized controlled trials of convalescent plasma and we need those, but for us the right choice was to join the Mayo Clinic's protocol and get this potentially useful treatment option to as many people as possible."
 To date, plasma collected at DHMC has gone to patients at the medical center and to patients at hospitals in Southern New Hampshire, which experienced a greater early surge of people sickened with the novel coronavirus. Likewise, people who've recovered from COVID-19 have traveled to DHMC from across the region in order to donate their blood. "The response from our community has been amazing," says Jenna Khan, MD, assistant director of the Transfusion Medicine Service at DHMC and assistant professor of pathology and laboratory medicine at Geisel. "People have been eager and willing to do anything they can to help others suffering from the disease."
A single blood draw can provide plasma for up to two patients—as well as samples for research. Investigators throughout D-H, Geisel, NCCC, and Dartmouth College are using these and other donated samples by enlisting volunteers to further understand COVID-19 disease and the body's response to it. In one such collaboration, Peter Wright D'64, MED'65, professor of pediatrics at Geisel, Margaret Ackerman, PhD, professor of microbiology and immunology at Geisel and a professor at the Thayer School of Engineering, Jiwon Lee, PhD, of Thayer, and colleagues from the biotech firm Adimab and from the University of Texas-Austin, are studying the breadth of immune responses in the blood and in the respiratory secretions of patients who have recovered from COVID-19. The groups are profiling and isolating the effective antibodies for use as therapeutics and to inform potential vaccine efforts.
"We have a strong consortium at Dartmouth pulling together expertise in immune responses," says Wright, an infectious disease specialist, "and the Clinical Research Unit at D-H has been extraordinarily helpful in coordinating and accommodating our work."
Lionel Lewis also notes the benefits of working in a small, tight-knit community. "Geisel and College scientists walk the same halls as D-H clinicians. We don't feel like two separate institutions. And the more collaborations we have, the more successes we'll have." Successes for patients like Robert Trembley. 
Plasma collected at DHMC has gone to patients at the medical center and to patients at hospitals in Southern New Hampshire, which experienced a greater early surge of people sickened with the novel coronavirus." 
V. August 2020
Five months after contracting COVID-19, Trembley says he's back to baseline. Or, according to his wife, "even better than" his previous baseline. He doesn't feel like he's had significant residual effects from the disease, perhaps, in part, because of the health challenges he's already faced.
Zbigniew "Ziggy" Szczepiorkowski, MD, PhD, principal investigator on the convalescent plasma program.
"This experience has made me even more determined to be consistent about exercising and doing the things that help keep me healthy," he says. "I received exceptional care and I'm so fortunate. Now I'm just enjoying each day as it comes." With the permission of his care team, Trembley's been able to spend most of the summer in Massachusetts, swimming, boating, and relaxing on the beach.
For everyone involved in Trembley's treatment or other research at D-H, it's stories like his that drive them. Lewis says, "Rural populations in developed countries are underserved by academic medical centers. We get to bring things to our rural population that generally wouldn't be available."
"During a health crisis, a really scary time, we're able to offer patients treatments that let them stay close to home," says Wilson, the director of research nursing. And she notes that these options are available to patients facing any number of health crises—not just COVID-19. There are currently more than 450 research studies actively enrolling at DHMC, and Dartmouth-Hitchcock Manchester is ramping up its abilities to enroll study participants in the southern region of New Hampshire.
"I'm extremely grateful that I had the opportunity to be part of a clinical trial," says Trembley. "Everyone at DHMC did a superb job and I want to extend my profound and sincere thanks."