See all Stories
A Small Piece in the Puzzle of ALS
David Scheuer spent much of his adult life sailing on Lake Champlain in Vermont. He never imagined his love of the lake might one day be linked with a devastating illness—Amyotrophic Lateral Sclerosis (ALS). While no single factor can be blamed for Scheuer developing ALS at the age of 63, a growing body of scientific investigation points to it may be from cyanobacteria—algal blooms that grow in waters all over the world—which is a possible risk factor. A generous gift by Scheuer's family is now funding research examining the connection.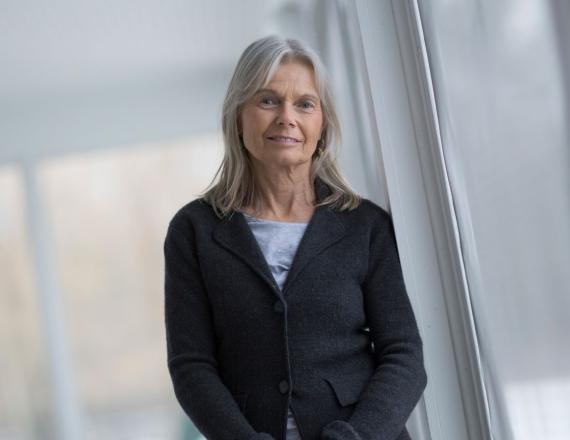 David Scheuer's symptoms began in early 2014, when his life partner, Glynda McKinnon, noticed that he was slurring some of his words. By summer, Scheuer noticed he was having difficulty pronouncing certain words. Then, in September 2014, after months of medical tests, he received the diagnosis that he and McKinnon had feared—Amyotrophic Lateral Sclerosis (ALS).
The two had spent seven years together. Scheuer was a successful real estate developer, passionate about building healthy, walkable communities. In his younger years, he had been a nationally ranked downhill skier. McKinnon filled her days working as a director of major giving for what is now Vermont PBS, caring for the horses she and Scheuer enjoyed riding, and staying involved with her three adult children. The diagnosis changed everything. As Scheuer's ALS took hold of his body, McKinnon became his primary caregiver.
"To say the journey was dark does not even begin to address how humiliating the last months of Dave's life were for him, a man who, in some ways, was larger than life," says McKinnon. Yet she's thankful for the tender care she was able to provide him: "It meant so much to me to be able to care for him, to be able to face this disease, together, on a very intimate level."
By mid-summer 2015, Scheuer was struggling to walk, eat, and simply breathe. In ALS, certain nerve cells that control the muscles in the body slowly die, eventually causing complete paralysis. Only about 1 in 10 people with ALS have a family history of the disease; the cause for most people, including Scheuer, is unknown. Many theories exist, including a suspected association with long-term exposure to cyanobacteria, also called blue-green algae.
Scheuer held on until McKinnon's birthday, August 4. On August 5, he chose to end his suffering, employing Vermont's Patient Choice at End of Life law, following a plan that he had discussed with his primary care doctor months before.
 
Compassion and Knowledge
"Dave was very clear how he wanted to live his life and how he wanted to die," says McKinnon. "He knew that he didn't want to prolong the illness. Still, he wanted the best care possible, which led him to the Dartmouth-Hitchcock ALS Clinic and neurologist Elijah Stommel."
Dartmouth-Hitchcock's ALS clinic provides multidisciplinary care for individuals living with ALS: neurology, pulmonary medicine, nutrition, speech therapy, physical therapy, occupational therapy, nursing and social worker assistance to help manage some of the challenges associated with the disease. Nationally, about 2 in 100,000 people are diagnosed with ALS in the U.S. each year; between the ages of 55 and 70, the rate is much higher—about 1 in 300.
"The care at Dartmouth-Hitchcock was remarkable and always very professional," says McKinnon of Scheuer's experiences. "He felt that there was compassion for him and knowledge, which was very important to him. His visits with Dr. Stommel ended up being more conversational than clinical. They got to know each other as people. They realized that they shared many of the same interests and passions—specifically music. Dave often said that the best part of having ALS was meeting Dr. Stommel."
Among the topics they discussed was Stommel's research on the possible connection between ALS and cyanobacteria. Stommel, a professor at the Geisel School of Medicine at Dartmouth, and other scientists worldwide suspect that long-term exposure to neurotoxins produced by certain species of blue-green algae may trigger ALS in some individuals. A generous gift in Scheuer's memory from his family's foundation is now helping to support Stommel's work.
 
Environmental Connections
The most compelling evidence implicating blue-green algae comes from studies in Guam, where rates of neurodegenerative diseases were once very high. The native foods were found to contain high concentrations of a particular blue-green algae neurotoxin called BMAA, which was also found in the brains of natives who died from neurodegenerative diseases.
Stommel first began investigating the blue-green algae connection in 2008, when he noticed that many of his ALS patients lived close to Lake Mascoma in New Hampshire, a lake known to have algal blooms. In 2009, Stommel and his collaborator Tracie Caller, MD, also a neurologist at D-H, published a scientific paper showing that the incidence of ALS for those living near the lake was 25 times higher than expected for the population there. In a more recent study, the team found high levels of the neurotoxin BMAA in brain samples from a large fish from the lake. Stommel's lab has also found cyanobacteria in the lungs of patients who have died of ALS and others without the disease who live near waterbodies.
Through a collaboration with researchers at the University of Vermont supported by grants and philanthropic funds, Stommel's team is examining samples of lung and brain tissue from patients who have died from various causes. They're looking for an association between cyanobacteria in the lungs and neurodegeneration in the brain. In a small study, they found such an association in patients who had lived within a quarter-mile of lakes; no similar association was seen in patients who lived farther from water bodies. Larger studies with more tissue samples are needed to prove the correlation.
Stommel and Caller have also teamed up with geographer Nathan Torbick, PhD, to map areas of higher-than-expected rates of ALS and lake water quality in northern New England. They have found that, in general, areas with poor lake water quality—conditions conducive to algal blooms—were significantly more likely to be ALS hotspots. Likewise, areas with relatively good lake water quality were significantly less likely to have high rates of ALS.
One of the maps, in particular, is startling for anyone who has spent years on the shores of Lake Champlain's Shelburne Bay, as Scheuer did. A bright red swatch, signifying a hotspot for poor water quality and ALS, blankets that region of the map.
"Dave really did believe that there was some connection," says McKinnon.
However, Stommel stops short of calling longterm cyanobacteria exposure a definite risk factor for neurodegenerative diseases. The science is "becoming more and more interesting," he says, but it's notoriously hard to prove that any particular environmental toxin, especially one that is so common, is a significant risk factor for a neurodegenerative disease.
"With most cases of ALS, there are probably genetic predispositions and then on top of that, there is some environmental influence," explains Stommel. "That's no surprise. That's what we see in cancer, too. As with cancer, it's probably not one environmental hit but multiple over a lifetime."
In an effort to test the cyanobacteria risk theory and to identify other environmental and lifestyle risks for ALS, Stommel and his team are expanding their research beyond Northern New England. They recently received a grant from the Centers for Disease Control to examine ALS cases in Ohio and possible clusters around Lake Erie.
If toxins from blue-green algae proves to be a driver of ALS and other neurodegenerative diseases, Stommel envisions that one day people may be able to be tested and treated for the toxins. But it will likely take years of research and clinical trials, as well as significant funding, to get to that point.
 
Raising Awareness and Dollars
For McKinnon, Stommel's research has inspired her to take action now. "When Dave passed away, I realized that I couldn't just go on living my life without sharing the evolving science on ALS and the environment. I feel there is a need to educate the public around the environmental risks of blue-green algae," she says. In 2016, she co-hosted two research symposiums featuring Stommel and other scientists in Shelburne, Vermont. She's also reaching out to legislators, the environmental community, and other concerned citizens in her region to raise awareness in Vermont and beyond.
"So, basically, I have two goals," says McKinnon. "One is to raise money for Dr. Stommel to continue his research, which Dave and his family supported wholeheartedly. And secondly, to raise the awareness on the research linking cyanobacteria—blue-green algae—to neurodegenerative diseases.
"I have taken a small piece of a very large puzzle," she adds. But she's clearly up for the challenge.