See all Stories
Telemedicine Reaches Across the Region
Telehealth—the use of digital communications to provide long-distance care and services—is a key strategy for delivering on Dartmouth-Hitchcock's  (D-H) commitment to improving health across a rural region and fostering a more coordinated and resilient rural health network. By connecting expertise to distant sites, D-H Connected Care and Center for Telehealth aids in early intervention, care coordination, and better outcomes; broadens patients' access to care while allowing them to receive care close to home; and improves operating efficiency and reduces staffing costs by delivering care in the right place at the right time.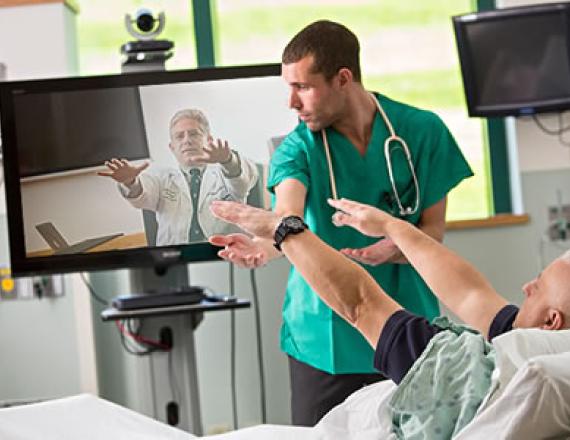 TeleEmergency provides an emergency medicine physician and an experienced emergency nurse to join a hospital's bedside team.
TeleICN allows community hospitals to meet the needs of infants that require a higher level of care. The support of ICN services helps keep patients and families closer to home by providing expert evaluations. 
TeleICU provides intensive care physicians and critical care nurses to augment a hospital's bedside team. The service provides high-level monitoring to identify concerning trends prior to patient deterioration. 
TeleNeurology provides neurologists for emergency department and inpatient consultations. This includes assistance not only with stroke but also with other adult neurologic emergencies.
TelePharmacy connects hospitals to pharmacists who can provide medication order review and processing as well as clinical consultation.
TelePsychiatry enables prompt assessment of patients in the emergency department or inpatient setting for locations that do not have around-the-clock psychiatric coverage.
TeleSpecialty connects patients and health care providers to D-H specialists. TeleSpecialty increases access to specialty care services for patients located in rural or underserved areas.
TeleUrgent Care provides back-up, support, and consultation to urgent care providers by emergency medicine physicians.