See all Stories
A New Hub for Cancer Research
Until late last year, Judy Doherty didn't give Dartmouth Cancer Center much thought. Like a lot of people in the Upper Valley, she was aware that the center offered care to patients with cancer, but had no idea that Dartmouth Cancer Center scientists conducted groundbreaking research, or that its patients could participate in clinical trials. That, she assumed, was the stuff of big-city hospitals.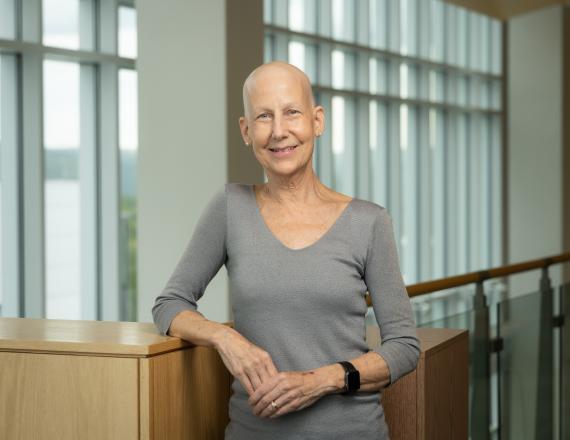 Nearby, another community member, Dorothy Byrne, was thinking a great deal about Dartmouth Cancer Center. A longtime supporter of cancer research and patient care at Dartmouth, she announced in January her gift of $25 million to establish the Byrne Family Cancer Research Institute. It's the lead gift in a $50 million Dartmouth Cancer Center campaign to overcome cancer through precision cancer prevention, next-generation immunotherapy, and entrepreneurship.
Housed within the cancer center, this new institute bridges the world-class teaching and research efforts of Dartmouth College with clinical care provided through Dartmouth Health. It strengthens the connections among Geisel School of Medicine, Tuck School of Business, Thayer School of Engineering, Guarini School for Graduate and Advanced Studies, and the College's departments of arts and sciences. Its mission is to fast-track scientific discoveries from the laboratory to the bedside to benefit cancer patients in the region and around the world.
Patients like Judy Doherty.
 
Academic innovations propel life-changing care
In October 2021, Doherty, the associate vice president for advancement systems and services at Dartmouth College, was diagnosed with a type of blood cancer.
Understanding Dartmouth Cancer Center's depth in research gave me confidence as a patient that I am in the best place for my care," Doherty says. "I had to believe that my treatment would include the best possible medicines and approaches. I had to know that the doctors treating me are experts in their fields. This is how patient care and academic excellence go hand-in-hand."
The establishment of the Byrne Family Cancer Research Institute elevates the Dartmouth Cancer Center research enterprise even further. Dorothy Byrne's lead gift and gifts from other donors support the recruitment and retention of new PhD and physician scientists, acquisition of advanced research equipment, enhanced training for students and faculty, a best-in-class clinical trials research program, and funding for the most promising innovations—ultimately putting those with greatest promise into the hands of the patients and physicians who need them most.
Joining Dorothy Byrne are donors like Loren Lortscher D '69 and his spouse, James Couto, who have created a generous endowed fund in their estate plans that will aid Geisel students engaging in oncology research. In memory of his wife and son, community member John Niles recently renewed his ongoing support of research on cancer metastases, currently benefiting the work of Mary Jo Turk, PhD, the O. Ross McIntyre, MD, Professor and a professor of microbiology and immunology at Geisel. And James Savarese D '88 and his wife, Eileen Savarese, shifted their support of cancer research from a major metropolitan hospital to Dartmouth after learning about the Dartmouth Innovations Accelerator for Cancer—a philanthropy-funded program that provides grant funding to researchers from every corner of Dartmouth College and Dartmouth Health with the entrepreneurial guidance needed to expedite innovations to the marketplace.
These initiatives, priorities of the Byrne Family Cancer Research Institute, give hope to Judy Doherty. "My cancer journey has been largely consumed by learning as much as I can about different kinds of cancer and treatments, and asking the question so many of us ask, 'Why have we not found a cure?'" she says. "I discovered that Dartmouth Cancer Center's size, its interdisciplinary approach to research, and its focus on specific priorities all contribute to its successes in accelerating cancer innovations. Thanks to philanthropy, the next great advances in cancer research are happening right here at Dartmouth."
---
To learn how you can support cancer research at Dartmouth, contact Bethany Solomon at (603) 646-5134 or bethany.solomon@dartmouth.edu.